Last Minute Wedding Package at very low rates as an experiment, and Standard rates held on all other Packages
Weddings in Wales at Craig y Nos Castle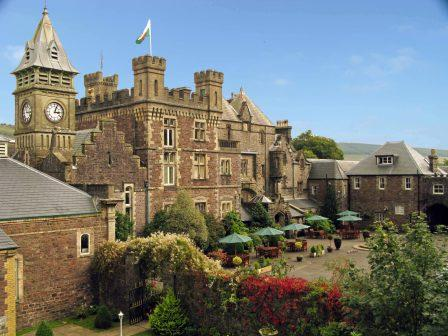 Our Last Minute Wedding Package used to be an all inclusive package comprising a 3 course wedding breakfast, welcome drinks and evening buffet, at £70/ head.
This would break down as £50 for the standard 2 course Wedding Breakfast and Welcome Drinks offered on all our other packages, plus £20 for the addition of the third course and buffet.
The key advantage of the Last Minute Deal was that it only required 40 overnight guests instead of 50 - in recognition of the fact last minute weddings tend to be smaller weddings because they are arranged at quite short notice.
However following a year of simplifying our offers, we decided to make all our packages the same: a basic starter package of a two course wedding breakfast and welcome drinks with exclusive use of one or all function rooms, depending on accommodation usage and size of the wedding. So the buffet and third course become an optional top-up on all offers.
Brides can either take the standard 2 course Wedding Breakfast and Welcome Drinks package or choose to top it up to include Buffet in the evening and / or a third course on the Wedding Breakfast.
Prices are currently held at £50/ head for the standard two course wedding breakfast and welcome drinks package, for the weekend and mid week wedding packages, for all dates 2017-2020.
The Evening Buffet can be added for £17 a head, the third course if required on the wedding breakfast can be added for £5.00 head, or both the Buffet and third course can be added together for £20 a head.
The only exception to this is the Last Minute Wedding Package which is £35 per head for the standard package of a two course wedding breakfast and welcome drinks. The Buffet and 3rd course can be added for the same rates as the main packages - i.e. £20 a head for both. So in real terms the Last Minute Package is a further £15 / head less than the other Packages.
On 80 guests this means you would make a very real further saving of £1200 on your wedding catering, just by choosing a date we would like to fill.
The Last Minute Package at £35 / head is now extraordinarily good value. It is really too low a tariff and I would like to increase it, probably in stages. So I initially will move it up to £39 per head maybe, then £40 a head and eventually £45 per head, in late 2017 early 2018, to coincide with the availability of the offer being extended forward to first quarter 2019. It will always be priced lower than the other Packages though.
Given the dates it is available, quite far ahead into the first quarter, this Package is ceasing to be a 'Last Minute Offer' and becoming a new 'Winter Wedding Offer'.
Last Minute Weddings currently have a price / value guarantee. To keep our Last Minute Package competitive and to maintain the value guarantee - we guarantee no proper wedding venue will undercut our rate and offer the same value package for less - so it is staying at £35/ head (as of March 2017 when this was written) for the time being.
This low rate is because we need to encourage more weddings into the post Christmas winter months rather than have everyone piling into the same nine months period - the Spring Summer and Autumn / December period! While we used to be happy to host 80 - 90 weddings a year, increased costs along with a desire to get on with the Castle Restoration program, have dictated we need to increase to 100 weddings a year or more. This means we need to properly fill the usually rather empty first calendar quarter - as we cannot squeeze any more bookings into the period everyone wants.
Once a date is sold it is sold and cannot be re-sold. We after all only host one wedding a day.
We do also get about 8 cancellations a year, opening up short notice dates that need filling quickly. As we will already have had the deposit off the cancelled wedding, the reduced rate on the Last Minute Package makes more commercial sense, as the Last Minute replacement wedding is being subsidised by the deposit of the cancelled booking.
Every January to March we have only a handful of weddings, so the Last Minute deal is priced very competitively to ensure we fill this first quarter with bookings. Brides get a very good deal on these dates, however they are not the most popular dates! It was not long ago that we simply closed the castle in January and February. There is always plenty of refurbishment work to get on with instead!
It may be the new much lower rates (plus the Flash offers!) do not encourage sufficient volumes of bookings, to justify the heavy discounting. If required volumes in the winter period are not achieved, this would actually cause the rate to go back up to a more sensible (for us) level. For if increased sales are not achieved, with the excellent deal we now have on Last Minute Weddings, there is no point in cutting our margins if bookings are not increased.
At £70 for the original 'all inclusive' Last Minute deal, after factoring in the £20 / head for the buffet and 3rd course, we were effectively at £50 for the Last Minute deal in 2016/17, in its present form of a 2 course wedding breakfast and welcome drinks, before the rate was massively cut down to £35/ head. Rates this low have not been offered since 2011/2012.
So to some extent the deals we are offering on Last Minute Weddings are experimental. A bit like Tescos! But in return we need the first quarter filled and so the experiment is now 'in play'. Can we book a load of weddings into the first quarter 2018, or do we just accept these months will always be quiet and put the Package back up to a more sensible level - £40 or £45/ head? A decision on this will be made probably by September 2017 as by then we'll know how well the Last Minute Package is doing. We'll know it is either driving bookings into the first quarter 2018 or it isn't.
The Last Minute Deal right now saves £15/ head over the other Packages, all of which save around £3,000 on venue hire - anyway - which would be due under the regular tariff, in return for a guaranteed level of accommodation use.
The level of accommodation use varies -
50 overnight at weekends,




25 guests overnight midweek,




20 or 40 overnight on the Last Minute deal (for either one room exclusive, or all rooms exclusive) and




20 overnight on the 'standalone' Evening Entertainment Package.



In all cases the overnight accommodation is paid for by the guests of the wedding and removes the cost of venue hire from the bride and groom, so the venue is then free to use. This makes Craig y Nos Castle unique, for most quality venues charge around £3,000 in venue hire, castles tend to charge more, while the average across all Swansea area venues is £1200 to £1500 in venue hire fees.
So depending who you compare Craig y Nos Castle with, we are anything from £2,000 to £5,000 less, by removing venue hire alone, while our rates for the Wedding Breakfast and Welcome Drinks are in the middle of the lower half of every other competitor - excepting the Last Minute Package which cannot really be beaten on value. Hence the value for money guarantee on the Last Minute deal. But if volumes do not change much from the usual 80 - 90 weddings a year, then the rates will, in steps, go back up to a still very reasonable £45 / head on the Last Minute Deals. Bookings at £35/ head will not remain possible for more than a few months.