9a. Your Wedding Venue - making your choice
Plan The Day > Wedding Planning Guide > Choose Date and Venue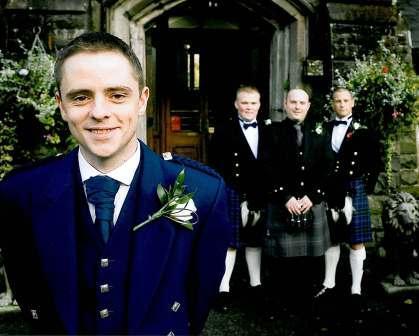 When selecting your venue consider:

(a) The number of guests the venue can hold for a sit-down meal; is this enough for the number of guests at your wedding breakfast?

(b) The number of guests the venue can hold for a buffet? The venue's fire certificate will stipulate the maximum number allowed at the venue.

(c) Licensing Hours; what are the bar opening times for your guests?

(d) Catering facilities and kitchens; these always merit inspection for basic cleanliness yet few brides and grooms ever ask to see beyond the public reception rooms!

(e) Weddings License; ensure this is up to date.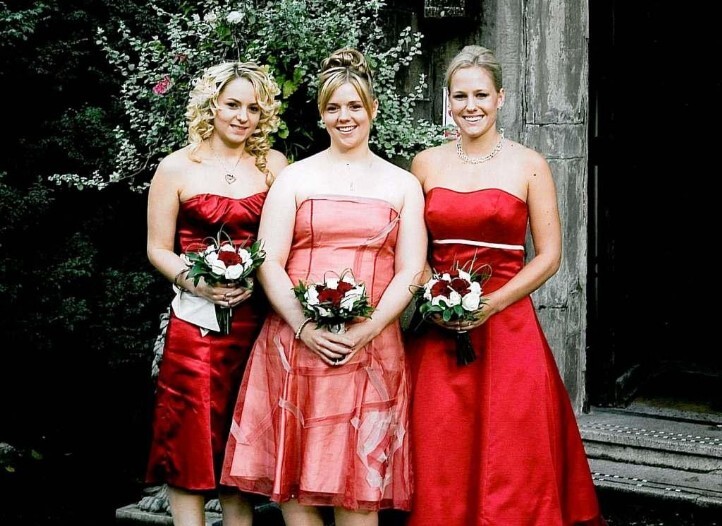 f) Your own and your guests' accommodation requirements; how can these be satisfied either at the venue or locally?
These days no one wants to get caught for drinking and driving, so it is best to select a venue at which guests can stay overnight if they want to. Your day can then last as long as your guests can!
Do inspect the accommodation and convey to your guests the standards and styles of room available.


(g) One venue, two venues or three? You can have three separate venues: a venue for the wedding ceremony, a venue for the reception and a venue for the evening 'do'. For example some couples will get married in a church, have a reception and Wedding Breakfast at one venue, then go on to another venue for the evening 'do'. This is less popular nowadays due to logistics and drink/drive laws.

(h) Should you aim to have everything under one roof? It is simpler to have the entire wedding at ONE venue. This certainly applies to civil weddings (which can be held in the Opera House). Having both the Wedding Breakfast and the evening 'do' at the same venue avoids splitting the party up half way through the day. It also avoids having to organise getting people from one venue to another. Couples who split the wedding or reception between two locations later admit they would have preferred their entire day in the one venue.

(i) What are the available dates? Consider what is more important to you - the dates or the choice of venue. To increase your choice, choose early.

(j) If you have no idea where to choose, consult friends and relatives who have been married within the last year or two. Where did they hold their reception? What did they think of their venue? What did they find were the advantages and disadvantages of the venue they chose?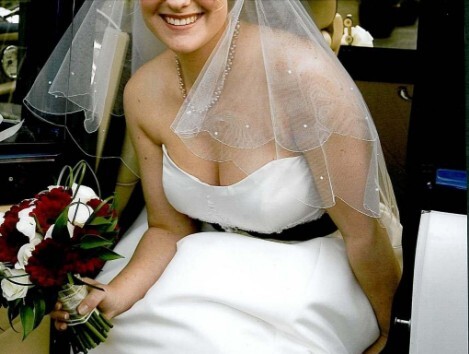 Here are some frequently asked questions to ask about the venue:

1. Does the venue have a preferred weddings suppliers list or are you free to select your own suppliers (e.g. florist, limo hire etc)?


Craig Y Nos does not generally recommend specific suppliers (aside from Pure Weddings DJ and the Table Decor company, 'Centre of Attention' in Brecon) but has an extensive wedding suppliers list you can choose from. Or you can choose to use your own suppliers.
For critical / important services, we advise you use suppliers who are 'familiar with the venue'.
It makes sense to use castle listed suppliers as they will be familiar with the venue. Unfamiliarity with the venue can be a problem for wedding photographers, as you need someone familiar with the best photo opportunities inside and outside the castle so they get the best shots for your own wedding photos.
We've also found unfamiliarity with the castle is a problem with Toasmasters, who obviously need to know where everything is, in order to direct guests to where they need to go. One new toastmaster spent 2 hours on a site visit (any professional supplier will know to do a site visit, which necessarily takes up staff's time) to familiarise himself with the Venue and the Client's Running Order.
Any supplier who occupies an important role, who is not familiar with the venue, should make a site visit before your wedding day.
Using a supplier familiar with the venue will help your day run more smoothly.

For links to suppliers familiar with the castle, go through them all alphabetically by category, starting with 'balloons' or use the Main Menu buttons.

You can also see a list of of suppliers who have attended our wedding fairs - see wedding suppliers who attend our wedding fairs - though this list has not been updated in a while.
Our arrangement with venue decor company 'Centre of Attention' in Brecon for table decor/ wedding reception room decor is proving popular with Couples. Some elements of their table decor and theatre Ceremony room decor are left permanently in situ at the Castle, for you to view when you visit the venue.
Also we have an arrangement with Pure Weddings DJ for the evening entertainment because his is a premium service, high quality, heavily discounted to Craig y Nos Castle customers, and he specialises purely in DJ'ing for weddings.
The castle accepts no commission from any suppliers it recommends, nor from any suppliers listed on this site, but some suppliers do offer discounts specific to Couples marrying at the Castle.

"
I had my wedding here on the 9th of September and I must say we could not of had better service and that was from our wedding planner to anyone on reception to all the waitresses waiters and bar staff nothing was to much trouble our day run smoothly and that was because of the staff
.
.
.
.
.
" Read more
2. Are there any restrictions on the photography (e.g. listed buildings).

Photographs should be kept to a minimum in the Grade One Listed Opera House but there are no restrictions. We do in summer on bright days sometimes have the black canopy over the roof skylight (called a 'lantern') to prevent sun-light damage but his can be removed to prevent the room looking dark as you walk in from outside. With the blackout canopy off it is nice and light inside.


3. How long are you booking the venue for? How much time should be allowed for setting up and breaking down?


Check if there is a wedding or other event before or after yours and their exit times.

4. Will the same person be on duty at the wedding throughout the day? Is this the same person you are dealing with before the wedding?
The same person will be on duty throughout your day. As staff turnover has increased (another effect of the National Living Wage - with all jobs paying the same, people seem to move jobs more often), we no longer allocate a Wedding Planner to a Bride on booking.
Your actual wedding could be 1 - 3 years ahead and staff just do not stay in their jobs that long - a year to 18 months is considered good these days. Gone are the days when a Wedding Planner would stay in a job 10-15 years (as used to be the case with us).

We will assign a dedicated Wedding Planner to you 30 - 40 days before your wedding, just prior to your Event Finalise Meeting.

5. Is there free parking?


Yes. The courtyard holds 20 cars.
The main car park holds 50 cars.
Coaches can park outside on lay-by which can also take a further dozen or so cars.
You may wish to ask guests to avoid parking in front of Castle and have us rope off an area for Photographs.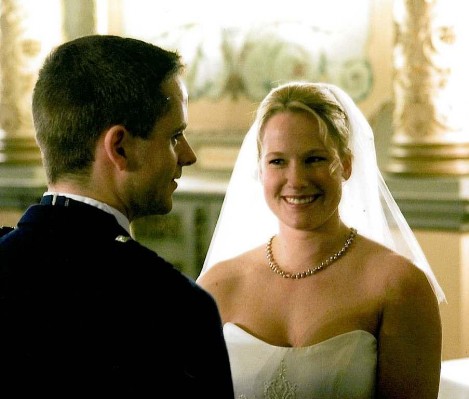 6. What tables, chairs, linen, china does the site have? Is this included? Are there any extra charges for any of this?


At Craig Y Nos, round tables, square tables, chairs and hire of linen napkins are included. Chair covers in the Conservatory Day Reception room are an optional extra from a supplier (we recommend 'Centre of Attenton' in Brecon) while chair covers in the Ceremony room are now included free of charge.
7. Is there a complimentary Bridal Suite?


The Bridal Suite is included free only if you have 60 guests under the Special Wedding Package, all staying overnight and paying for their own B&B. It is not included below 60 and not included under the Regular Tariff or Members Tariff. It is quite difficult to get up to 60 guests staaying overnight given the current configuration of the en-suites, added to which weddings are generally getting smaller. The Bridal Suite is free under the Last Minute Wedding Package.

8. What happens if it is pouring with Rain?


If the weather is bad on the day, the Bride and Groom may enter and exit the Theatre from the Function Room. The Guests may either enter the Theatre as they arrive, or come in to the main castle and enter the theatre from the Function room.
Photographs may either be taken inside, or wait until the weather improves so they can be taken outside.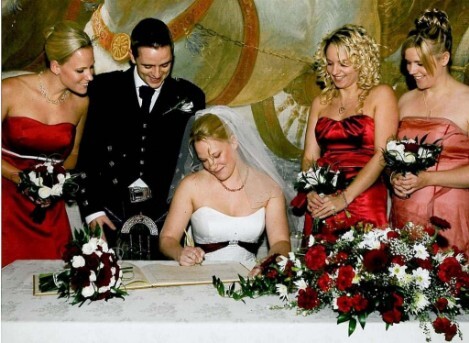 9. Are disabled facilities available?


The Conservatory is accessed via its own ramp from the inner courtyard. Our Brecon Beacons Hotel rooms AB11 and AB12 have disabled bathrooms.
The Theatre may be accessed from the main car park / courtyard via a ramp.
Disabled access to the castle 'upper ground floor' level is via a special ramp that must be pre-booked as it needs setting up. This internal ramp takes you from a corridor door leading from the inner courtyard up through the Breakfast Room, and we place another ramp from the Breakfast Room to the main ground floor level for the Nicolini Lounge/ Function room/ Main Bar level.
The budget Nurses Block is also on the ground floor and has a disabled loo and bathroom and bedroom at one end with wide door for wheelchair access.
There are some wide stairs from the theatre to the Function Room and from the front entrance to the Function Room and Bars. These stairs do not afford disabled access internally into the main building from the theatre so instead you exit into the courtyard up the theatre ramp, and then use the ramp through the Breakfast Room. The staff will provide assistance as required.


10. Is there a floor plan drawn to scale?


This is available on our main website Wedding Venue Wales floorplan.


11. Is there a map with directions to the venue?


See the Craig y Nos Castle map page.




Photography on this page by Celtic Photography
________________________________________________________
Financial Stability of your Wedding Venue is now a new consideration
some venue closures and higher tariffs are likely in 2019-2020.

________________________________________________________
Limits on availability means the venue is one of the first things to organise, ahead of other decisions.

The popularity of second marriages and even third marriages and 'renewals of vows', added to first marriages, are providing extra business for wedding venues, and many have long waiting times before you can book a date.
However in recent years more wedding venues have entered this still growing market, including many stately homes seeking funds for their own maintenance and upkeep! Some of these stately homes may not offer catering etc, but simply hire themselves out exclusively for a venue fee.
The retail and hospitality sector has been feeling the effect of higher wage costs from 2016/17.
This is due to the introduction of and subsequent increases in both the National Living Wage (NLW) and Employer Pensions contributions, both relatively new and rapidly increasing wageroll costs.
The budget end of the market and small independent hotels will be affected significantly. Minimum levels of turnover are required for venues to be viable and these minimums are rising. A venue can survive in one of two ways - (A) it can try increasing the number of weddings it hosts, or (B) it can try increasing the tariff.
Ideally it needs to do both.
A venue can also (C) increase the minimum numbers it will accept for a wedding, to enourage larger weddings, or (B) if allowing smaller weddings, to hold more than one wedding on the same day.
Or it can try doing both, to increase volume and value.
Yet there is an excess of small venues, all competing with each other, making it tricky to increase the volume and value of weddings handled.
Something has to 'break'. Many venues can limp on provided there is no recession that wipes out their trade, and no sudden cost shock. What we have with the simultaneous introduction and rapid increases in the Living Wage in a sector that has traditionally had low wages, coupled with the introduction of Pensions Contributions, is becoming a Black Swan Event.
At the Castle our own wageroll increased by over 100,000 (up more than 25%), from £390,000 to over £500,000 in one year (2016/17). In addition, a change in Council Tax for commercial properties has led to swingeing increases, almost a doubling of Council Tax. This, coupled with the introduction of employers' pension contributions (which will only increase) represents a sudden and continuing escalation of Government induced wageroll costs.
Also, the UK's high 20% VAT compares unfavourably with the 6-10% VAT applicable for the Hospitality and Restaurant trade in all other European Countries.
These high state induced costs - NLW, Council Tax, VAT and Pensions Contributions - I predict, WILL combine to bring down a number of smaller venues in the period 2019-2020, OR cause rates for Weddings to surge very rapidly. There is no doubt these costs cannot forever be absorbed by businesses; higher wageroll costs will ultimately be inflationary.
We anticipate medium sized to small hotels closing, as they won't be able to increase the volume of business fast enough. Nor will the market sustain increases in wedding rates until at least some of the competitors are removed from the market by economic forces. And of course any downturn in the economy will reduce the demand for weddings, though there is a delayed effect due to so many forward bookings (so we had a 60% drop in 2011 - some 2-3 years after the 2008 crash).
This 'cleansing' process has been happening for years in the Pubs Sector and of course we are seeing the rapid demise of many long-established household names in the Retail Sector as Internet shopping competes with the High Street and Shopping Centres.
If a wedding venue closes (hitherto a quite rare event), you may lose your deposit and may have difficulty finding a new venue at short notice.
It is very unlikely you will be able to get the same date. The good news is, if you do come across a short notice empty date (typically because of a cancellation), the venue in question will welcome your late booking with open arms and substantial discounts. The discount on a late booking may even be enough to cover any loss of deposit on the original venue.
Given the costs involved in booking weddings, and certainly the cost in a late notice change of date and changing a venue, it is becoming more sensible to consider buying wedding insurance. Just check it does cover the venue cancelling on you, not just you cancelling your wedding with the venue and your suppliers.
The above does represent an argument for NOT booking your wedding too far ahead, and for looking at Last Minute Offers more closely, as these can be substantially cheaper.
In the case of Craig y Nos Castle, we have income from other sources and low debt. But we have higher than average maintenance and repair costs. While these are to some extent optional in that they can be put off for a year or two, you cannot put off repairing the roof indefinitely in a wet climate! We put a new roof on three major areas in 2017 - the Conservatory was re-roofed by outside roofing contractors, half the function room (the Music Room end) roof was replaced by outside contractors, our own building team completed gulley work above theatre porch, commenced gulley work above theatre entrance behind the Statue, and the main Opera House auditorium's 'Lantern Roof' had to be completely dismantled and re-built, involving hand-crafting individual timber frames for the uniquely shaped 'lantern' and then lead-covering the timbers; this work took one of our specialist builders the entire summer to complete. This year we intend to re-roof above what will become the Second Bridal Suite.
We have successfully increased the number of weddings we handle, putting pressure on staffing budgets as we scale up just to cover increased costs. Where once we used to be happy handling 80-85 weddings a year, we now host 105 - 110 weddings a year to absorb the increased costs. We could well scale up to around 120 weddings a year by 2020, contributing around £1.7m a year to the local economy. So far, we have resisted increasing the cost of our Wedding Packages, and the exceedingly good value Last Minute deal has caused a surge in sales of our 2018 weddings at time of writing.
We know we offer extraordinary value on the Last Minute Wedding Package which is why it has a price guarantee.
We may also need to revisit our approach of only allowing one wedding a day (though this is such a strong selling point, it is unlikely we would get enough demand for two weddings on the same day - each bride wants the castle exclusive).
The Castle is in a continual state of Refurbishment and our tariff reflects this. However many brides have commented we are extraordinarily surprisingly inexpensive, and over the next 12 months we will be considering our position on all our Wedding Packages.
While we have had to add venue hire to the Saturday Wedding Package, we are the only castle wedding venue to have no venue hire on the other days of the week (including Fridays) on our Wedding Packages.
Our Saturday Venue hire at just £1,000 is substantially lower than similar standard venues - we know of one Venue (a very popular one locally) that charges £7,000 in venue hire and oddly, Brides do not seem to baulk at this. We cannot quite work out how they do it!
When you consider just hiring your own Marquee with all the trimmings - including flooring, curtains, and draped lining, will cost you around £1200 to £1500 for a 100 - 120 guests capacity tent, and that does not include the hire of tables and chairs and all the linen etc (which are included in a wedding venue), you can see why a venue hire charge of around £1500 is the average across the industry (2017 rates - see Competitor Comparison Chart here).

The result of having to take on more weddings, is that we now are extraordinarily busy, as our Availability Calendar for 2018 shows. We are experiencing a surge in Last Minute Bookings and have found an easy market to tap into with many Brides seeking a Last Minute Deal. This does not need a lot of advertising - everyone it seems is up for a good deal!
Any popular venue will typically have all its Saturdays booked, Winter and Summer, at least a year ahead, with its 'Summer season' Saturdays booked two or even three years ahead. Our Availability Calendar has had to be extended 5-6 years ahead, though we consider a wedding booking 4-5 years ahead, is taking 'forward planning' a little too far!

It was only five years ago we heard one venue locally had ceased all advertising because they could not take any more bookings for the next two years. More recently many new Venues have been opening up for weddings, creating more competition. Summer Saturdays are still booked a year or two ahead, but Fridays now have much greater availability. We are also noticing Sundays are becoming much more popular, and we are doing more mid-week weddings.