AB21: double en-suite with nice bathroom
Wedding Planning > Our Bedrooms > Double En-suites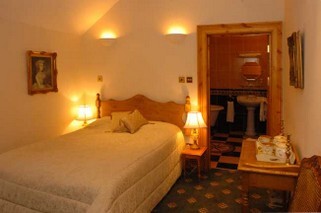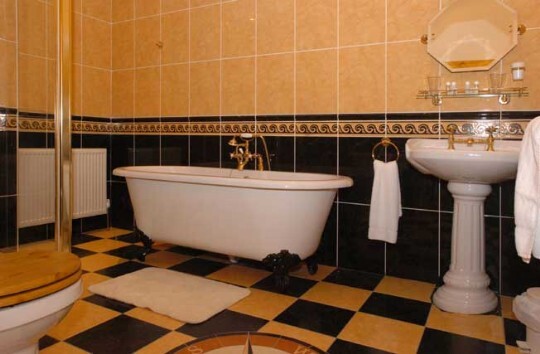 The bathroom in AB21 is almost as big as the bedroom. You might wonder, why have such an impressive large bathroom for an ordinary sized bedroom?
Well, it is to do with the original supporting walls. The internal walls between some rooms are very thick as if they were originally 'outer walls'.

We think originally the Atrium area where we have all our en suites now, consisted of separate buildings that during the Victorian era as Adelina Patti (the opera singer) employed and housed more staff, got extended and joined together - hence the very thick internal walls between some of the rooms.
In most of the en-suites we could not move stone supporting walls, but had a load of rooms with no bathrooms. So to make the rooms en suite, we divided every alternate room into two, thus creating two bathrooms out of each alternate room - one for the room before it, and one for the room after it.
However by room 21, there was no room the other side of the bathroom (as it is a staircase). So there was no point dividing the last room. Hence we just made a really nice bathroom out of the last room before the staircase, instead.
TV, Internet & Phone Information
Small TV, 7 channels via hotel cable system. Has telephone which you can plug a computer into for internet access (either bring own cable or ask at reception for a spare cable).
WIFI 2019: Signal strong if near to Corridor - this room runs alongside corridor but sit nearest to internal wall between room and corridor or near door.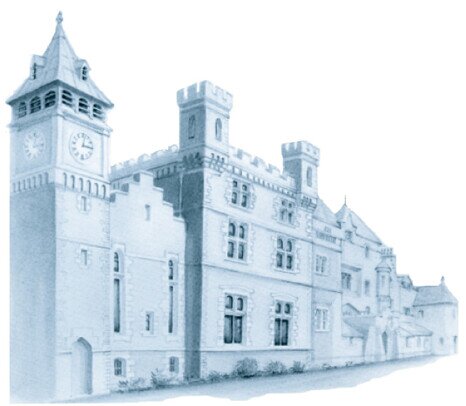 Enjoy a Homely Welcome and Friendly Service at Craig y Nos Castle