Wedding Tips for your Wedding Day
Wedding Planning > Wedding Ideas & Tips
Wedding Tips: Toast with wine


Toast with white wine instead of champagne. Champagne can get expensive, and not everyone likes the carbonation. Save money by offering a nice white wine instead.

Today is a day you will always remember
The greatest in anyone's life
You'll start off the day just two people in love
And end it as Husband and Wife.
It's a brand new beginning, the start of a journey
With moments to cherish and treasure
And although there'll be times when you both disagree
These will surely be outweighed by pleasure.
You'll have heard many words of advice in the past
When the secrets of marriage were spoken
But you know that the answers lie hidden inside
Where the bond of true love lies unbroken.
So live happy forever as lovers and friends
It's the dawn of a new life for you
As you stand there together with love in your eyes
From the moment you whisper 'I do'.
And with luck, all your hopes, and your dreams can be real
May success find its way to your hearts
Tomorrow can bring you the greatest of joys
But today is the day it all starts.
Wedding Tips: Plan your wedding day schedule and timings


Allocate start and finish times for each key event during the day and allow time for over-runs.

E.g.
1. Set Up tables - cloths, cutlery, glasses, to plan - this can be done the night before if you stay the night before and provided the Conservatory Breakfast Room has been cleared from the day's wedding (which it can be provided the day's wedding is moving through to the function room for their evening do).

2. Guests Arrival/ Accommodation booking-in. Guests can only book in after 3.00 pm if the rooms were occupied the night before, as it takes time to clean them. So we have separate pre-wedding changing areas for those that need them in our spa and in the Nurses Block.

See more on your wedding day schedule here.

Wedding Tips: Relax! It's your Wedding Day


The most important thing for both bride and groom is to forget about everybody else on the day and enjoy your wedding day! The planning is complete and it's time to have a great day.

Whatever happens you need to take it in your stride. Don't dwell on minor mishaps, but laugh at them and enjoy yourself. Never lose sight of the reason you are here – to become husband and wife.

Wedding Tip: Have a To Do List


Stay organised. Have a To Do List. Get things done in plenty of time according to the Wedding Planner scheduler. Understand what happens when and what you need to get done in a timely fashion as one thing follows on from another and may depend on something else being done first.

Wedding Tips: Ceremony Schedule


There is an order to the Wedding Ceremony Schedule, including how and when the guests should be seated and in what order your guests, bridesmaids and you should enter the ceremony room. Have music playing on a decent stereo during the 30 minutes or so it takes for all your guests to arrive and be seated in an orderly manner.

Read all about the wedding ceremony schedule here, including Processional and the Recessional.

Wedding Tips: The Job Interview


How many couples interview their partner? Unheard of? Surely that's only for job applicants! Yet some writers have described becoming a wife as starting a new job or 'career'.

Indeed becoming a housewife is, if this is what you intend and are happy with, a new direction in life. How do you feel about giving up a work job or your own career? It could well be a permanent 'job change'.

So if you were to conduct an interview, what might you ask your partner about?

1) Children - yes or no. When? How many? Who will be primarily responsible for child rearing? What sort of education/ school?

2) Finances and money. Any existing debt? Spending habits?

3) Family - history of any serious troubles; drug abuse; alcoholism; genetic problems; weird relatives

4) General future expectations - where to live, house or flat, city or country?

5) Two careers or one, retirement plans

6) Day to day routines and sports, hobbies and interests etc.

7) Habits, day to day living style, tidiness/ untidiness, home builder or not bothered?

8) Belief systems and moral priorities/ honesty level

9) Politics and religious beliefs and general attitudes etc?

10) What activities do you already like sharing? What activities do you not wish to share? Mutuality of interests?

Wedding Tips: Wedding Poem

AMERICAN INDIAN WEDDING BLESSING
Now you will feel no rain,
for each of you will be shelter to the other.
Now you will feel no cold,
for each of you will be warmth to the other.
Now you will feel no loneliness,
for each of you will be companionship to the other.
but there are three lives before you: his life, her life and your life together.
Go now to your dwelling place,
to enter into the days of your life together.
May beauty surround you both in the journey ahead
and through all the years may happiness be your
companion to the place where the river meets the sun,
And may your days be good and long upon the earth.
Treat yourselves and each other with respect,
And remind yourselves often of what brought you together.
Give the highest priority to the tenderness,
gentleness and kindness that your connection deserves.
When frustration, difficulty and fear assail your relationship -
as they threaten all relationships at one time or another -
remember to focus on what is right between you, not only
that part which seems wrong.
In this way, you can ride out the storms
when clouds hide the face of the sun in your lives.
Wedding Tips: the Vintage Look


Use fashionable trends such as Rustic and Shabby Chic to create a modern vintage look at a small price.

Check out your loft for an old suitcase or even an old wicker picnic basket / case for cards!

Wedding Tips: Jewellery Something Borrowed

You don't need to spend lots of money on wedding jewellery. Chances are that someone in your family has something nice for you to wear on your big day. This saves you money and also takes care of finding "something borrowed."
Wedding Tips: Use paper


Paper is a great way to decorate your wedding venue. Not only is it cheap, but it's incredibly versatile. DIY with bunting, pompoms, and streamers.
Wedding Tips: Wedding venue staff
Are the staff experienced and professional? Flexibility is also important. Are they willing to adapt to your needs? This will be a major factor in how smoothly your day runs.
At Craig y Nos our Wedding Planners have years of experience between them, looking after 130 wedding couples a year. As you have the Castle Exclusive for your wedding, there is plenty of flexibility in tailoring the Venue to how you wish and organising your Wedding Day just how you want it.
Wedding Tips: Time your outside photos between showers
It rains a lot in Wales but not necessarily continuously. If it is a showery day with occasional sunny spells, be flexible with your outside time rather than stick to a specific 'after the wedding ceremony before the wedding breakfast' slot for photos.
We have plenty of space inside for photos, but if the sun does shine later on in an otherwise rainy day, take the opportunity to get out and take more outside photos.
Wedding Tips: Rainy Days

Think about about umbrellas. Make sure you have a few. Avoid the big golfing umbrellas with logos on - you don't want other people's company logos in your photographs. With a bit of planning you could have some real fun with your umbrellas. Why not include some as Wedding Gifts, in the colour scheme of the wedding, maybe with your own name or logo on! These would make some great photographs too.
You can buy umbrellas cheaply online. Try some brightly coloured ones to tie in with the colour theme on your wedding day, and the colours used in your Wedding Reception room. Alternatively just buy a load of plain white or light grey ones, suitable for a wedding.
Wedding Tips: Use Cake at Wedding Breakfast


Make best use of your wedding cake by incorporating it into your wedding breakfast and have it served as dessert.

You can save considerably and the wedding cake does not then go to waste. You could also ask the wedding venue to 'dress' the plates so the cake is served with fresh berries and cream at a fraction of the standard dessert price (a small charge applies as kitchen labour plus some additional ingredients are required).

At Craig y Nos Castle under our most of our Wedding Packages the Wedding Breakfast is two courses. You can add a third course, or you can substitute your Wedding Cake for the third course. Just ask!


Wedding Tips: Hire a Marquee or a Wedding Venue?
If you have access to spacious gardens or other outdoor space, a marquee at your home could be worth considering. However many people are surprised at how pricey it can be to hire a marquee for their wedding. Easily £1,000 for a decent sized marquee with hard wood floor and then you have all the seating, table cloths, napkins and tables on top. Before you know it you could be spending upwards of £2,000, making the option of hiring a venue much less costly than hiring a marquee.
In the Conservatory at Craig y Nos, the canopied roof makes the room a cross between a Marquee and a proper Conservatory - and unlike a Marquee, you have solid clear glass windows you can see out of, with panoramic views to boot. So if you were thinking of a marquee wedding, you get the best of both worlds with the Conservatory - and as the wedding venue is free if you have over 50 guests staying, you save money over hiring a Marquee!
Wedding Tips: Wedding venue facilities
Is the venue suitable for guests with a disability, and can it provide appropriate seating for the elderly and/or young children?
The Conservatory has ramped access, with disabled loos available in the neighbouring spa, down a ramped corridor. Access to the main Castle is only possible for wheelchair users via a portable wheelchair ramp which can be put in place by arrangement.
We do have two disabled rooms, with proper disabled facilities in the bathroom and ramped wheelchair access.
Meanwhile young children do enjoy running up and down the corridors and exploring all the various rooms. The leather chesterfield sofas are child friendly (easy to wipe clean after spills and sticky fingers) so the Castle welcomes families and children. There are four or five children's seats for dining.
Wedding Tips: Aspire to this


Come, let's be a comfortable couple and take care of each other! How glad we shall be, that we have somebody we are fond of always, to talk to and sit with. ~Charles Dickens



Your eyes are like fire on a cold winter's day
Your soul burns within me
Your touch blossoms my innermost passions
And your voice melts my heart.
You are the key to unlocking
My most sacred fantasies.
When I'm at my deepest sleep
With your passionate ways,
The one that rivets me with
Your beautiful, unique face.
You are the one that I want to share
My life, my love with for all eternity.
I will love you always and forever.
Wedding Tip: Make use of the Country Park


When you choose Craig y Nos Castle as your Wedding Venue, you may not appreciate that there are many scenic photo opportunities in the neighbouring Country Park, which is overlooked by the Conservatory.

You can reach the Country Park from our gardens via footpaths or you can take the car.

Don't limit your photo opportunities to the Castle gardens and inside the Castle. Venture into the Country Park - possibly by car if the paths are wet, and have some photos taken by the lake, with swans and ducks in the background. This also gets all your guests outside to enjoy the fresh air and clear the lungs.

Getting everyone walking down to the lower gardens and Country Park will also help everyone work up an appetite for the Wedding Breakfast!

Also make use of our lower gardens, with the backdrop of the Castle in the background.

Wedding Tips: Appoint a helper


Have a friend act as your Wedding Day helper, confidante and organiser. There are lots of last minute details to remember and two minds are better than one. Do you have a well organized friend who can help you?

Wedding Tips: Source of Wedding Poems


Many wedding couples choose to have a few verses on their wedding stationery or invites, or some meaningful ditty that relates to their country, their relationship, their hopes and aspirations for the future.

See here for an excellent source of wedding poems to use on your own Wedding Stationery and Wedding Invitations. Choose one of these Wedding Poems to read out at your Wedding Ceremony perhaps!

Wedding Tips: Hairdo on day


When you're having your hair styled on your wedding day, wear a shirt. Many brides wear a t-shirt, then struggle to get it over their newly coiffeured head. If you wear a shirt it can be unbuttoned and will not damage your hairdo.

Wedding Tips: Buttonholes


FAO Groom: Your buttonhole is traditionally worn on your left lapel – whichever side you prefer, ensure that you and your ushers all wear their buttonholes on the same side.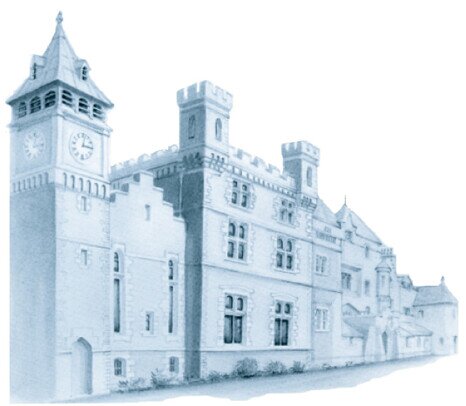 Enjoy a Homely Welcome and Friendly Service at Craig y Nos Castle