Index of South Wales Wedding Suppliers - Craig Y Nos Castle
Wedding Planning > Our Suppliers
Wedding Suppliers

This is an alphabetical list of our Wedding Suppliers listed by category of supplier.
If you have a specific type of supplier you need, use this page to find the category of supplier you are looking for.
Click on the text link or the small picture to go to the selected category.
Have a browse through all the other categories of wedding supplier in case there are some Wedding Suppliers you had not thought of!
Stamp of Approval
Suppliers on our List
1. While not essential, if you are employing any supplier not on our website, consider checking with us for our recommendations – ask if they have been here, do they know the venue or if we have any experience of them?
2. Suppliers on our website are known to us and will work together professionally.
3. We do not actively recommend any one supplier over another – other than within specific packages on this site (e.g. SWEEP).
4. Many excellent suppliers are not on our website simply because new suppliers come on the scene and do not think to ask to go on the site.
5. The absence of any one supplier from our website's Suppliers List does not imply anything whatsoever about them!
6. Suppliers in BLUE or coloured font are LINKED to a write-up about themselves which they have provided for our website. Click on their name to get contact details for these linked suppliers. Any prices, if shown, are likely to be out of date.
7. Suppliers in normal grey text without a link do not have write-ups about themselves on our wedding website, but are known to our Wedding Planners. Some may be 'regulars' at Craig y Nos. As these have not asked us for a listing, you will have to visit their website for contact details etc.


Balloons
to add a real party atmosphere. You might use these in the wedding reception room or only use them in your evening disco room for your evening party.

Beauticians / Make-up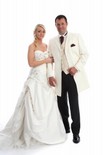 Bridalwear and formal hire

Wedding Cake
- see a wide variety of choices and cake ideas on the various wedding suppliers' websites.








Carriages and Cars

Chair covers
- while we have Cheltenham Gilt Chairs that will come out fine in photographs, you will get a much better effect on the day, if you have chair covers. Makes your wedding a really smart affair.





Chocolate Fountains
- probably more useful if you are not having a third course for your wedding breakfast.






Dove Release
- I really like this idea and they make a wonderful wedding photo opportunity as you come out of the theatre through the glass doors into the courtyard. Probably not so good in winter, but ideal for sunny summer photos. Have a look at this page to see some lovely photos of dove release at the castle.


Entertainment - Bands
; you can have a band as well as a DJ (as the band won't play all the time you may need both). You may even use the band during the day, outside, if it is a nice summers day. This would work during the wedding photographs section of the day, after the wedding ceremony.


Entertainment - Bouncy Castles
. Suitable if you have a lot of children, though the adults will always join in as well! Small weddings can place the bouncy castle indoors, though ideally a bouncy castle should go outside on the theatre lawn.


Entertainment - Casino for hire
. Another idea I like. The tables are generally set up in the Nicolini reception lounge and they are incredibly popular with wedding guests. If you think of it, aside from chatting to each other and eating and dancing in the disco, what is there for guests to do? Whenever we have a wedding that hires a casino, there is a real buzz as the guests, drinks in hand, gather around the tables to place their bets.


Entertainment - DJ

Entertainment
- Harpist
. Position your harpist in the ceremony room, so your guests see the harp on the stage as they walk in. A sophisticated alternative to simply playing music on a DVD player. Later the harpist can move outside, in summer, or to the lounge in the winter. She'll play for an hour or two, as long as you want. Adds a centrepiece to your wedding.





Entertainment
- Magician
. Table Magicians at weddings are popular, either at the end of the wedding breakfast, or in the evening before the disco gets underway.

Entertainment
- Pianist
. These days you do not have to hire in a huge grand piano or a regular piano; an electronic keyboard on a stand is all that's needed. The piano can be used instead of a harpist, in the same way - either as background music during the wedding breakfast, or in the ceremony, or during wedding photographs.

Entertainment
- Singer
. The singer will normally double up as a DJ - at least the one on our site does, so you have a combination of singer and D
J.


Florist
. A regular florist at Craig y Nos is Rhian Francis, who is based just down the road from the castle. This makes it easy for her to come up to meetings at the castle, should you wish to discuss flower arrangements on site, while you are visiting Craig y Nos Castle to discuss any other wedding arrangements with the venue.
In 2018 we came to an exclusive arrangement with Brecon Table Decor Company Centre of Attention, whom we now recommend for all your Conservatory decor; they supply wedding reception chaircovers, floral arrangements and table centrepieces.

Hog Roast
. The castle can supply hog roasts (without the visible pig being roasted) or you can hire in a firm who will roast the hog on a spit and carve the meat off in front of your guests. This will provide a good wedding buffet but you will need around 120 evening guests minimum to justify the substantial cost of using a whole pig. Also be sure to have an early wedding breakfast so guests have a chance to build up an appetite for the pig - you don't want any wastage when going to the expense of a full hog roast
.


Photo Booth Hire
- A few years ago this was a 'separate hire' and you will find specialist photo booth hire companies on this page. The booths look interesting and novel and there are some striking photo booth designs you can hire. Once a novelty, a few years back, photo booths are now increasingly offered by DJ's as an add-on to a DJ Package, along with large LOVE letters, under-lit dance floors, etc.

Photographers
- A good choice here, with many photographers who are regulars at the castle and so are familiar with the best shots and all the photo opportunities we have both inside the castle function rooms and outside in the
grounds.

Wedding Stationery
- An essential requirement for your wedding invitations, thank you cards, and other stationery.


Toastmaster
- in my personal view, a must-have ceremonial figure for any wedding!


Wedding Fair
Attendees - some further wedding suppliers who have attended wedding fairs at Craig y Nos Castle in the past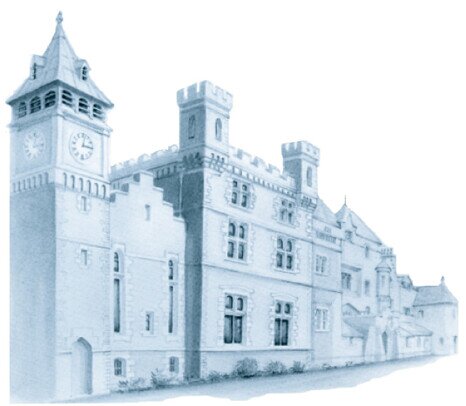 Enjoy a Homely Welcome and Friendly Service at Craig y Nos Castle