Table Plans for the Wedding Breakfast in the Conservatory
Wedding Planning > Plan your Wedding Day
Table Setting - seating plan for Guests at the Wedding Breakfast

By this stage you will have sent out and received back your RSVPs. You know who is coming to your Wedding and what they have chosen for their menu items. Now you need to seat them together as you see fit, on round tables of 7 - 10 each.
The Conservatory Wedding Breakfast and Banqueting Room will seat a maximum of 130 on 10-11 Rounds and the Head Table. You may have 8 - 12 on the Long Head Table, normally placed along the large windows facing over the Country Park, then a number of Round Tables which can seat 7 - 12, but ten is really the optimum number to go for on a 'round' table.
So for 110 guests you might have ten rounds of 10 guests each, and one long Head Table with 10 guests on it, though in practice some tables may have fewer and some more, as you plan who should sit with who.
Start with the first page and then scroll through each page by clicking on the picture to go to the next 'slide'/ page, or press the blue 'next page' button. It is worth familarising yourself with the various settings and plans other brides have used, however the styles may be out of date as we have not updated this section for a while, and fashions on colours have changed since. These pages are useful for general table setting and seating plan ideas and to get an idea of the best layout for the Conservatory Table Plans, given your specific wedding numbers.
Once you have completed the Table Plan template, with who is on each table, you will need to write out the Menu Choices for each guest under/ beside each guest's name. This then allows the Waitresses to correctly serve the Starters and Mains to each Table. Also, since your Wedding Day is 2-3 months after the date your guests will have made their menu selection, you can be sure most of your guests will have forgotten what they ordered.
It is recommended that when you print or write out your place name cards, for the Tables, that you include the menu choice for that guest, under their name. This prevents confusion where Guests may mis-remember what they have ordered, and prevents any guest from instructing a waitress to bring them a different dish to that ordered. Obviously we only cater for the number of Mains and Starters you order, so if guests have items they did not pre-order, it will mean we 'run out of' what other guests pre-ordered!
We will need your Table Settings and Menu choices around 4 weeks before your Wedding, which is when we will call you in for your Event Finalise Meeting. You may also have last minute changes to the Table Plans as guests can cancel with you up to the last minute. However you are not able to reduce the number of wedding guests booked and billed to you, a month or less before the Wedding
Day.
Who to seat with who - further essential advice
Deciding who will sit with who, and which guests you must avoid sitting next to each other, considerations such as where to seat fidgety children, or couples who are separated/ divorced, will make planning who sits with who quite an art-form.
To avoid missing something pretty fundamental on protocols and best practice for seating your guests at the right tables and with the right guests, see further
Seating Plan Advisory notes
here
.
There are as you can imagine a whole selection of different Table Plan layouts which we use, depending on the Number of Guests and the preferred location of the Head Table.
In most cases the Head Table is placed along the windows looking over Craig y Nos Country Park and the Brecon Beacons. This means the guests at the Head Table have their backs to the window and are looking in to the room, at their fellow diners. The Diners on the Round Tables meanwhile are naturally looking towards the Head Table, for Speeches etc, and to see the Bride and Groom, and so have a back-drop of the views over the Brecon Beacons Mountains and the Country Park scenery.
This arrangement is the layout most often favoured by Brides and Grooms, however there are many other templates for other layouts, including the head table in different positions and different styles of seating.
< Click on the blue chaircovers picture to show similar layout seen from other end of the room >
Napkin Designs - supplied for Wedding Breakfasts by the team at Craig y Nos Castle. Choose the style you prefer for your wedding tables. From left to right the correct names are: 1. Banana, 2. Sydney Opera House, 3. Fan, 4. Star, 5. Shard.
Table Measurements and Hiring in Tablecloths
Most people use our tablecloths and the most they will bring in is the runners. You may choose your own centrepieces of course, or work around / decorate the included candelabra (silver or gold). We very rarely have people hire in their own tablecloths as we supply, as part of the package, the white tablecloths and white napkins. We no longer offer ivory cloths/ napkins.
The Rounds are 5 feet exactly in diameter, (153 cm). The drop is 29 inches - or if you prefer metric: 74 cm.
The Head Table is however long you make it, the drop is the same 29 inches, the individual long sections are five feet long. So the total length can be adjusted in increments of five feet. Width of Head Table is 30 inches (76 cm).
Table setting for circa 45 - 55 Guests Below
Table setting for 100 - 110 Guests Below
See Table Plans A - I, for the Wedding Breakfast set up in our Conservatory. Download either as an Image, a Word Document or as a PDF. Table Plan layouts can be altered to suit. Use these as a guideline to where and how you can best seat your guests. 8 or 10 per round table is recommended. When discussing with our staff you can refer to the Table Plan by its letter to help our Wedding Team refer to the correct plan.
TABLE PLAN A
Download as:
IMAGE or WORD or PDF

TABLE PLAN B

TABLE PLAN C

TABLE PLAN D

TABLE PLAN E

TABLE PLAN F

TABLE PLAN G

TABLE PLAN H

TABLE PLAN I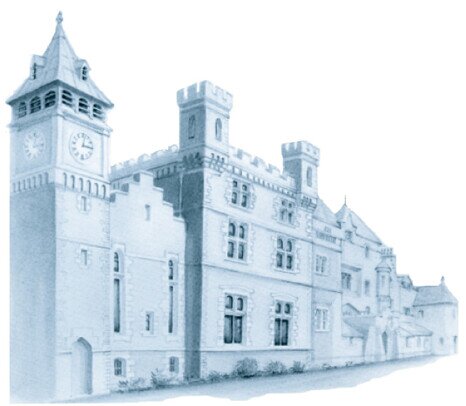 Enjoy a Homely Welcome and Friendly Service at Craig y Nos Castle