Wedding Package Evening Buffet menu, choose any 6 items
Wedding Packages > Menus
You can either pick and match; choose any 6 of the listed items on either the Original Evening Buffet or chose 6 items from the 'Newer' 2018 Buffet (or choose items from both menus up to 6 items in total).
6 items is the limit for your Buffet Package at £17/ head but you can add more items at £2.95 each if you wish to have more than 6 items from the above menus.
Also as of 2019 you can choose three different pre-set Buffet Options - no pick and match; you just choose one of the specific buffets below.
Craig Y Nos Castle offers a good variety of evening buffet options. Our chefs can also discuss any suggestions you may have - so let us know if you want something 'special'.

If you want more than six items, you can add additional items (for a wider selection), for an additional £2.95

per item per person.



Start by selecting any six of these traditional options: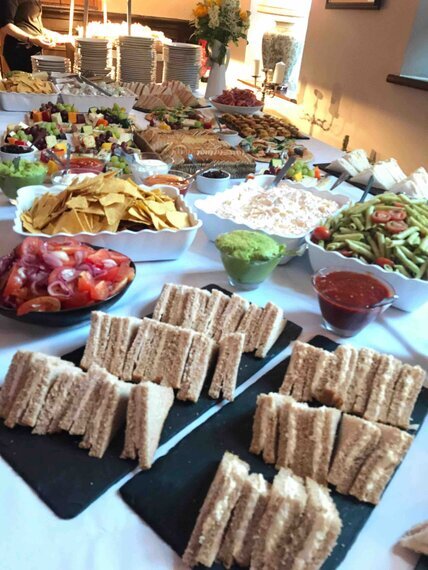 Original Evening Buffet
A Selection of Cold Sandwiches
Chicken Wings & Drumsticks
A Selection of Pasties/Pastries
Mini Cheeseburger Crostinis
Chicken Dippers with Bbq Dips
Our wedding planners will always be happy to discuss any requirements or thoughts you may have.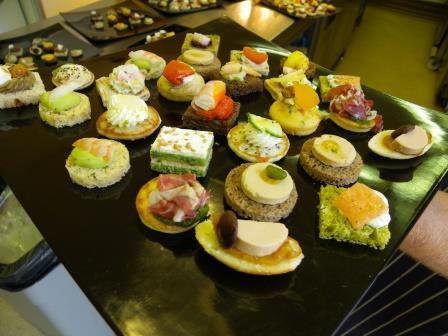 _____________________

New Evening Buffet

______________________
Further Buffet Choices added April 2018
Please Choose up to 6 selections

Mixed Selection of Cold sandwiches & wraps
Sausage Rolls, Pasties & Pies
Selection of Cured Sliced Charcuterie
Smoked & Cured Seafood Platter
Selection of Welsh Cheeses, Grapes, Chutney & Crackers
Nachos, Guacamole, Sour Cream & Salsa
Herb Coated Garden Wedges
Garlic & Herb Toasted Bread Slices
Chicken Goujons served with BBQ & Sweet Chilli
Chicken & Vegetable Skewers
Mediterranean Vegetable Skewers
Halloumi & Pepper Skewers
Hot Filled Jacket Potatoes
Mixed Salads including: Coleslaw, Mixed Leaf, Tomato & Red Onion, Pesto Penne & Cherry Tomato, New Potato & Chive Crème Fraiche
"
Thank you to the wonderful staff of Craig y Nos for a fantastic weekend. We got married at the castle a year ago and were returning for our anniversary (this time with our puppy in tow!).
.
.
....
" Read more
2019 FINGER BUFFET & £17.00
Sandwich selection

You may also be interested in our alternative option of slow roast hot pork rolls - served with apple sauce, crackling and stuffing alongside a selection of condiments. Basically like a Hog Roast without the visual effect of the pig roasting on a spit. This would be an alternative to the choice of six items above.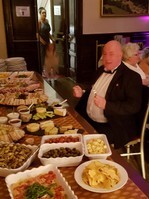 _____________________

Evening Pudding Choices
_____________________
You may also be interested in offering guests a small selection of desserts -
all these individual options can be added at £2.95 per item per head:
Profiteroles with Chocolate or Toffee sauce
Fruit or Vanilla Cheesecake
Lemon Tart with Raspberry Coulis
Sticky Toffee Pudding with Butterscotch Sauce & Custard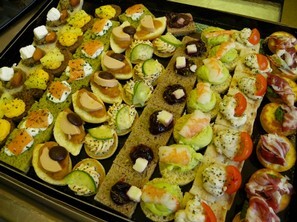 ____________________________
How many should you book for?
_____________________________
How many evening guests do you truly expect for the evening buffet? Have you updated the number of evening guests you now expect based on you RSVPs?
We do not take bookings for the Evening Buffet when Brides first book their wedding, so if you wish to offer guests an evening buffet, let us know so it can be added to your account.
Kindly note we do not allow 'under-catering' as this leads to complaints from guests if food runs out. So, if you invite 100 evening guests, you need to cater for 100. However, you should be realistic about attendance levels. Not all evening guests will turn up on the night. The 'no-show' rate may be 5% to 10% or more. So, you can estimate your 'no-show rate' and deduct this from the original total.
For example, if you invite 100 evening guests, but expect some day guests to leave early or some evening extras not to come at all, then this is the 'no show' rate. If you assume 10% no-shows, you cater for 90 instead of 100 guests. This is quite acceptable as you are making a realistic estimate of numbers.
However, we cannot support intentional 'under-catering' where you cater for fewer than you expect, as this leads to complaints when food runs out.
2019 HOT BUFFET [1] @ £19.95
Mini hog rolls
½ jacket potato
Pasties/cheese pasties
Sausage rolls
Tempura prawns
Med skewers
Halloumi skewers
Potato salad
Penne pasta
Coleslaw
Mix leaves
2019 HOT BUFFET [2] @ £22.50
Mini curry & rice pots
Mini veg chill & rice pots
Create your own burgers
Scotch eggs
Potato wedges
Mix leaves
Potato salad
Penne paste
Coleslaw
Selection of dips
How hungry will your evening guests be? If you have a lot of evening extras, you may find they will eat more than guests who were at the Wedding Breakfast.
If the majority of your evening guests are with us for the day, they'll initially be full from the wedding breakfast and will eat less. That said, alcohol is an appetite stimulator, and demand for the buffet will increase as the evening dancing gets under way.
You need the buffet to go out later if you have very few evening extras, to allow your day guests to work up an appetite. If you have a large contingent of evening extras, you need the buffet to go out earlier as these new evening guests will be hungry on arrival.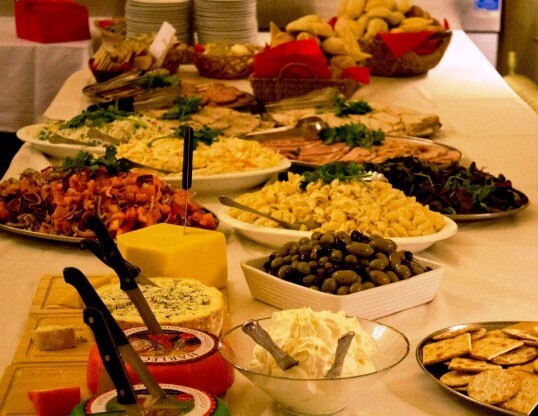 Special items or suggestions of your own may cost more per person (such as a specialist cheese board incorporating a selection of interesting Welsh Cheeses) so feel free to discuss any ideas wiith our Wedding Planner and our Chef.
Some options for Buffet Displays are shown above and this display will be added to shortly. Move your mouse over the picture to read the description of the buffet you are looking at.
You may choose a Cheeseboard Buffet either as an alternative to the main Wedding Buffet, or as an addition to it, or you can add a cheeseboard option, as one of the six full evening buffet items.
If you wish to replace the standard evening buffet with a cheeseboard option only, this is an alternative to the full evening buffet that we can offer you, at just £12.00
per head. This is for a minimum of 50 people. So you can offer your guests a cheeseboard buffet for £600, for 50 guests, and £12 for each extra guest thereafter.
Cheese Buffet
Snowdonia Welsh Cheese (Award Winning)
Truckles Black Bomber (2018 Best Mature Cheese)
Green Thunder – Garlic & Herb
Red Devil- Red Leicester, Chilli & Red Pepper
Amber Mist – Cheddar & Whiskey
Fayerfield Mature Welsh Cheddar
Y Fenni – Wholegrain Mustard & Ale
Et Al antipasti Olive - Mix of Olive, Pickles & Pickled Onions
Cherry Tomatoes & Celery Sticks
Red Onion Marmalade & Welsh Apple Chutney
Nachos with Cream Cheese & Salsa Dip