Sparkles Hire Wedding Table and Venue Decoration


Website: www.sparkleshire.com


Contact: Roy Star
Telephone: 07926 530 868 (Always open)
Email: sparkleshire@mail.com
Address: 7 Cross Street, Abertillery, NP13 1AJ

2014 sample hire prices (per item):
Hire products: Light Curtain (3) £195.00, New Talking Post Box/Wishing Tree (1) £145.00, Table Roses Trees (10) £12.50, Sweet Cart (1) £245.00, DIY Sweet Cart (1) £75.00, 4ft Rose Trees (2) £25.00, (4) £45.00, (8) £75.00, White Chair covers with sash (300) £2.50, Satin Self Tie White Chair Covers (300) £1.50, Top Table Skirt (1/up to 12 places/white) £45.00, Roman Pillars (set of 4) £25.00, Red Carpet (1) £35.00, Cream Carpet (1), £45.00, Red Carpet 6 x Brass Stanchions (4) Ropes £95.00, Brass Stanchions with matching rope £10.00, Wedding Arch Set, (Carpet, Pillars, arch) £95.00, Bailys Drink Fountain £295.00, Maitini Glasses £35.00, Silver Candelabra £35.00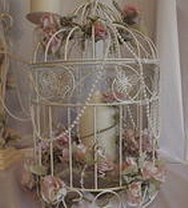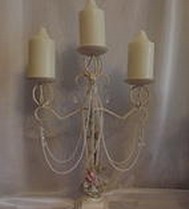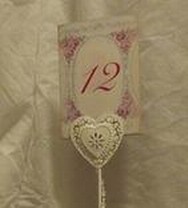 Vintage Range: Vintage Sweet Cart (1) £245.00, Table Stand (1) inc printed cards £55.00, Table Bird Cages (6) £12.50, Table Candelabras (6) £12.50, Top Table Candelabras (2) £12.50, Table Bottle Numbers (15) £12.50, Table Number Stands (15) £4.50, Bird Cage Post Box (1) £25.00, Wedding Arch Set (1) arch, Pillars (2) £125.00, Vintage Pillars (2) £25.00, Vintage Column Cake Stand (1) £35.00.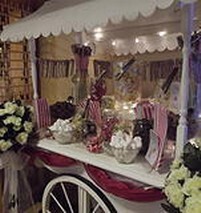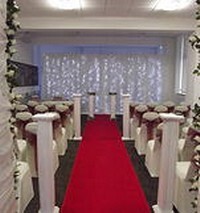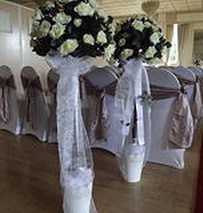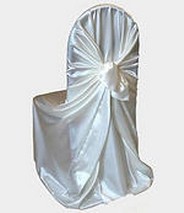 Wedding chair covers are now seen as a must buy, with most brides wanting to create that extra special look at their venue. Chair covers are an ideal way to transform a room, hiding unsightly venue chairs with style and elegance. It also gives you the opportunity to incorporate your colour scheme with our luxury organza sashes, available in a range of colours.

Our wedding chair covers are made of soft white, Ivory or black spandex material, which will stretch to fit almost any chair perfectly. Supplied with organza sash to match your colour scheme, we deliver, set-up and collect our wedding chair covers, which are guaranteed to be freshly laundered and pressed without fail on every occasion. £2.50 each.