Wedding with 30 guests limit under Coronavirus restrictions
Castle in Pictures > Special Niche Weddings
In October 2020 we had our first Socially Distanced wedding at Craig y Nos Castle. This was in fact our first full wedding since Coronavirus Restrictions came into effect at the end of March this year.
This wedding was held within the 30 guests limit permitted in Wales - under current Coronavirus restrictions - here at Craig y Nos Castle. The slideshow below, while not showing any of the guests aside from the Wedding Couple, will give you a good idea of the layout and appearance of the venue, Ceremony room and Conservatory, at a smaller COVID-compliant wedding.
As you will see, if you are a new Couple considering a smaller wedding under our Intimate Wedding Package, or if you are an existing client considering whether to go ahead with a smaller wedding under the current restrictions, the wedding photographs still look great, even with the masks!
Comment by happy Wedding Couple at this wedding:
*****
"Thank you so much!! I'm so glad that we were able to get married in such a beautiful venue and from the moment we booked through to the day itself, you have all been absolutely amazing! All your staff and Nicola in particular went above and beyond to give us a magical day that we will never ever forget! Given the current circumstances and confusion over guidelines, anybody would have been worried about what to expect but we were always kept up to date and felt reassured we could still have a lovely day! We couldn't have asked for more! So thank you again! We loved every second."
******
You will note the restrictions on what is allowed at a wedding are subject to change. Allowable guest numbers may increase or decrease. Over time, we expect the numbers allowed will increase, but not until the winter is over. In the short to medium term local lockdowns are currently a risk, affecting who can attend. Obviously if any of your guests are in a locally locked down area, they cannot attend your wedding. Your suppliers can attend however, as under current rules (at time of writing this) people are allowed to travel out of a locked down area for work purposes.
Please see our
Coronavirus Advisory page
and review current restrictions before deciding whether a smaller socially distanced wedding during the COVID era can work for you. If a wedding under whatever restrictions apply on your date is not what you really desire, we continue to offer free postponement to a later date.
While you can commit to a wedding at the Castle, at the moment we cannot predict what restrictions may apply over the ensuing months. If you book a wedding date with us, there is no telling if restrictions will be eased or increased by your date. If your original date becomes unworkable, we will carry forward all your wedding plans on whatever terms you had agreed for your original date, at no extra charge. This means all your wedding arrangements are guaranteed in every detail at your original tariff, bar, of course, the wedding date itself, which, due to COVID, is subject to change in the current times.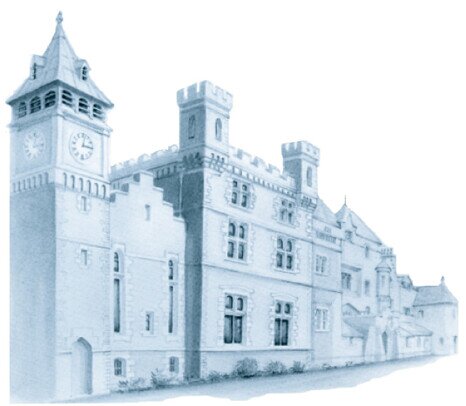 Enjoy a Homely Welcome and Friendly Service at Craig y Nos Castle