Wedding Venue Swansea Viewing Appointments
Contact & Book
24:/03/20: Following the Prime Minister's statement on 23/03/20 the Castle is now closed other than for security, key management personnel and live-in maintenance staff. So there is 'generally' no one to receive incoming calls. The majority of reception, front of house, wedding planning staff are now furloughed and required to stay at home. Please can everyone email us rather than phone us. Or use the Chat Service on the website. Wedding Planners working still from home can still take incoming emails and answer queries on our chat service but cannot take phone calls.
Aug 2018: They were attentive and interested in our day from day one and we were made to feel like our wedding was the only one happening. During the planning process they were patient and informative, answering each and every one of our questions thoroughly (even when they may have been repetitive or with a potentially 'obvious' answer). The price for what we go was also fantastic - the food and food choice was impeccable. Lastly the day before the wedding all staff were on board with us, helping in any way to decorate the venue - I feel they went above and beyond in this regard, to ensure we personally had the most perfect day we could. Day of, the staff were incredible - the day was perfect. Every query, question and request was completed promptly with the best customer service I have ever received at any wedding. Overall I would highly recommend this venue to anyone. Kind regards, Fiona
Book the whole castle - exclusively - so your guests can move around freely; yours is the only wedding at the castle on your wedding day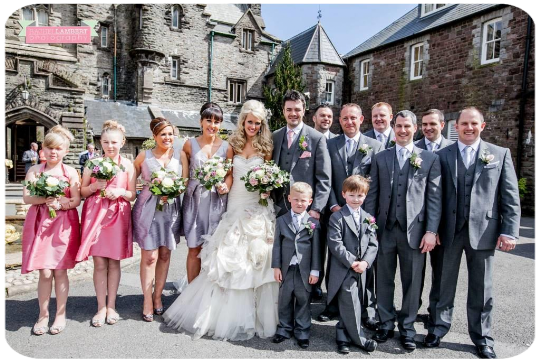 29/06/2020: Viewing times will be available again from 1st August - please choose two possible dates and times you wish to view on the form.


View the castle. Just enter a couple of dates and times you can visit.

We'll email you to confirm which one of our Wedding Planners will meet you and show you around the castle.

To find us, see DIRECTIONS to Craig y Nos Castle Wedding Venue South Wales.
If unable to attend, please let us know so we can accept other appointments.

We are a dog friendly Guest House with extensive walks in the area. So if you fancy a walk in the Country Park - see our dog friendly website's Country Park Walks here.

While you are in the area you may also fancy doing some touring - click on Holiday Itinerary here.

If you are travelling from afar, you can book a holiday break - see 'view and stay overnight' (not available during coronavirus lockdown restrictions).
Also see our Last Minute Weddings Offers.

Viewing Booking Form

See available Wedding Viewing times here

Should you not be able to visit the castle in person, we may offer 'remote viewing' via Skype or What's App. Viewings will resume from 01/08/2020. We cannot offer viewings during weddings (but there are none at moment!)
Appointment Viewing times

Times shaded blue are unavailable for viewings.

Unshaded = OK for viewings.




Viewings are available only from 1st August 2020

Day
Date








































































































__________________________________________
__________________________________________
* There are no Sunday Lunches at present.

Your Wedding Booking at Craig y Nos Castle
When you book your wedding with us, we invite you to Open Days - see Wedding Fair page for dates of all Fairs and see Open Days here. At an Open Day the Castle is set up just as it will be on a wedding day. Pure Weddings DJ set up the function room as if for an evening wedding party and disco. 'Centre of Attention', the Brecon venue deco company, set up several display options for tables and chairs in the Conservatory - great ideas for your own wedding.
To meet with a wedding planner, make an appointment request, with two different times / dates you can see a wedding planner to discuss your wedding.
Communicating with Castle by Email
For anything wedding related us
e weddinginformation@craigynoscastle.com or your own Planner's castle email address.
Requirements that you have for your wedding plans, table arrangements, payments, guest numbers etc should be sent to this email address.
For accommodation related enquiries use
info@craigynoscastle.com
(Reception). All accommodation bookings go via reception.
Emails to any @craigynoscastle.com address are cc'd to Management to ensure requests are actioned. Management can ONLY monitor emails to @craigynoscastle.com addresses. We do not have access to non @craigynoscastle.com addresses or to staff's personal email address. Emails sent to any individual's personal in-box, or correspondence on any form of social media, chat forum, what's app etc, cannot be monitored.
To ensure your emails are actioned appropriately always use an @craigynoscastle.com address.
All emails are automatically entered into your database file as received, and answered by reception or Wedding Planning team, within 24 hours or less. Entering emails on to your file creates an 'audit trail' of all correspondence with you to properly record the evolution of your wedding plans. All your requirements for your wedding are trackable within the emails on your file. Any correspondence with any 'private' email addresses, chats etc, should be cc'd to weddinginformation@craigynoscastle.com if you wish the content to go on your file.
To ensure you receive emails from the Castle please ensure our email addresses are added to any whitelists or allowed email lists.
Communicating with Castle by Phone
Reception is manned 09.00 to 21.00 hrs 7 days a week. At times there is only one receptionist on duty and even when there are two, both can be away from the reception desk for a while.
If they are already on the phone or are on a long call or have left their desk to show someone to their room, or if they are simply talking to a customer at the front desk, or if they have nipped behind the bar to serve a drink, the phone may not be answered for several rings. We do not operate an automated answering or call holding / recorded message system. If you keep ringing, this can work, but often it is best to simply ring back in ten minutes.
Overflow calls feed through on the 8th ring to another office, so provided that office is manned in turn, calls will be picked up. However sometimes it can be easier to either ring back in ten minutes or email us.
Or use our website chat service for a fast response.