Accommodation Reserving and Booking - Special Room Use Monitor
Wedding Planning > Plan your Wedding Day
1. Accommodation Reserving
This is the Accommodation Templates Page, for the SRUM to monitor guests B&B bookings and reservations. For other subjects, see

Index of Wedding Planning topics or scroll to bottom of this page.

We use the Special Room Use Monitor (SRUM) Spreadsheet. This is an excel spreadsheet to help you book your Wedding Guests into the Castle's Accommodation. Select PDF link or the Document Link below to open up a downloadable version of the SRUM spreadsheet. Use this to track your B&B bookings for guests. Complete and send back to us for us to put guests into the relevant rooms and report back to you who is booked in where.
Guests Booking of rooms:
Guests should book their rooms direct here
at the earliest opportunity and certainly more than 5 - 6 months before the wedding date. Once your wedding date is under 6 months ahead, the rooms not booked or reserved to wedding guests, will be released for non-wedding guests under our B&B and Dinner B&B offers.
So where there are unused rooms, they will be let out to non-wedding guests (typically the guests of another wedding after yours). So ideally guests should book at least 5 months in advance, to be sure of getting a room, before other non-wedding guests book their B&B stays.
There are some wedding packages where 'all the en-suite rooms' are reserved for the wedding - e.g. Saturday and Friday Wedding Package and the Weekend Exclusive Deal.
All other wedding packages have lower minimums and so un-booked rooms which are not reserved to the wedding will be released for the general public 6 months or so before your wedding date, if not booked by your wedding, so do encourage your guests to book at least 5 - 6 months before your wedding day.
(A) Monitoring Occupancy level against Minimum B&B level agreed under your Wedding Package.
The Occupancy level needs to be monitored by you and by us, to ensure you meet the accommodation quota agreed under your specific Wedding Package.
Under the Special Wedding Package, you guarantee 50 guests will stay in the en-suites at £75 each, B&B, paying £3,750 in all.
Under the Last Minute Wedding Package you guarantee 20 will stay overnight under the LMWP 50 Package, totalling £1,500, or 40 overnight under the LMWP 80 Package, total of £3,000.
Under the Full Weekend Package you effectively need 50
guests staying two nights to cover the £5,900 cost of your reservation of all our accommodation for the two nights.
Should accommodation use by guests fall below the agreed amount, on the day of your wedding, you will make a top-up payment for the balance. We can calculate any shortfall 48 hours before your wedding date, because all B&B bookings are secured at that point. Guests who book their own rooms become liable for the cost of their booked rooms and cannot cancel within less than 48 hours of the date of stay.
To calculate the top-up payment due from you (if any) we use an Excel form called SRUM - Special Room Use Monitor. This automatically calculates the income due from guests, subtracts it from the Accommodation Usage requirement on your specific Wedding Package and gives you the correct figure for any top-up that is due for un-booked rooms.
(B) Booking extra rooms above the Minimum Accommodation Guarantee.
The Midweek and Last Minute Wedding Package and other smaller Wedding Packages have lower accommodation use requirements. However you may need more rooms than the minimum guaranteed under these packages.
You can choose to reserve more rooms than the minimum required, so more of your wedding guests can stay at the Castle. You may guarantee further bedrooms in blocks of 5 extra rooms for 10 people at £75 per person. This means you have the option to guarantee more wedding guests to stay on the night of your wedding by providing an additional accommodation guarantee; e.g. £750 per block of 5 en-suite rooms.
Whilst this additional room guarantee is added to your account, provided your guests call to book and confirm these additional rooms (including the rooms reserved for your guests under your minimum accommodation guarantee) this amount is removed from your account 48 hours before your wedding, subject to any under-occupancy being charged to yourselves.
(C) Accommodation 'Reserving' and Accommodation 'Booking'.
Use the SRUM form to pre-allocate/ 'reserve' some or all rooms to your guests.
Ask your guests to go here to book their rooms on the website - saves them phoning or you booking for them. Let them know to book a room either on sending out your 'reserve the date' cards / email, or when sending out your RSVPs.
To view the rooms - see the Accommodation Table or scroll to the bottom of this page for the Bedrooms Index. Click on each link thereon to view and select rooms best suited to your guests.
You can 'reserve' specific named guests only in the family rooms. Or you can reserve the disabled rooms for your elderly guests or wheelchair users. Or you can go the whole hog and 'reserve' all the bedrooms for your entire wedding party.
Reserving ALL the double rooms is not necessary, as most guests choose their own double rooms on a first come first served basis.You may want to reserve at least the larger family rooms for named guests. Identify who among your Wedding Party are families willing to share a triple or family room together. Ground floor rooms may be best 'reserved' for elderly guests who need them most.
The SRUM shows you how many guests can be booked into each room, with a column for the first two occupants to pay £75 each, and a separate column showing how many extras the room can accommodate at £50 PPPN (per person per night). .
Overflow accommodation is available in the Nurses Building budget non en-suite Rooms. These are £35 PPPN (£70/ room) based on two sharing. They are very basic. Accommodation in the Nurses Block does not count towards your required guest accommodation numbers for your wedding.
Use the SRUM to reserve the rooms for your guests and then send it to us. Note we have provided different SRUMs for each Wedding Package as the required guest accommodation numbers varies with each Package.
When you send out your Wedding Invites, advise the reserved guests which rooms they're in. Then when they call us to book their room with their own card details, we will know which room you want us to book them into and they should know which room to ask for.
For our part, when we receive your room reservations for your named guests, we will enter your guest names into the Room Bookings spreadsheet our end. Then when the Guest calls to confirm their booking, we will mark the room as booked out to them.
Until the Guest books and confirms their room, the liability to pay for that room remains yours. If you have reserved more rooms than you are required to fill under your wedding package, you will need to cancel any rooms not required that remain in your name, at least 48 hours before the wedding date and preferably sooner so we can fill them with other B&B guests if you are not using them.
WE will only block out rooms for your wedding guests up to the minimum requirement under your Wedding Package.
In the case of the Weekend Wedding Packages (Fri and Sat), this will be '25 rooms'.
For Last Minute 50 Wedding we ONLY reserve 10 rooms for your minimum requirement of 20 overnight guests.
For the Mid Week Wedding Package we ONLY reserve rooms up to your minimum requirement of 25 Guests.
If you need more rooms than the minimum under your package,
guarantee them as above
and reserve them in the name of the guests you wish to allocate extra rooms to.
Block Reserving Rooms in your own name is not advised. Instead 'reserve' rooms for named Guests. Otherwise when a guest calls to book, our system may show rooms booked in 'your name only' as unavailable for other guests.
Differentiate between rooms you are booking for 'yourselves' and rooms you are booking 'for named guests' (which you 'reserve' in a specific guest's name).
(D) Communication from us on who has booked rooms with the Castle so far
We can send you copies of your own SRUM and enter bookings on it to update it for you, as and when you wish to see it. You will want to monitor your own Guest Room bookings as it (A) confirms who is definitely booking in for your wedding and (B) confirms how you are doing on filling the rooms, up to your minimum room usage requirement.
As bookings come in they are entered on our booking system. When you need to know who has booked into each room, you can ask us for an 'updated SRUM'. We have a procedure where we enter the postcode of the occupant once they have 'confirmed their booking'. If there is no postcode, it indicates to us and you that the room is 'reserved' but not yet 'booked' by the guest.
Reserved rooms remain yours to pay for, until they are booked out to an actual wedding guest whose post code and card details we have on
file.
The Special Room Use Monitor
This self-calculates the amount owing by the Bride and Groom. As Bookings are confirmed, a post code is entered, the amount owed by the Bride and Groom reduces as rooms are booked out to Guests.
Differentiate between Reserved Rooms (for which the Bride and Groom remain liaable) and Booked Rooms (where the guest has booked and is due to pay).
We differentiate between 'Reserved' and 'Booked' rooms by i
nserting a Post Code by the name. A post code shows we have a full address of the occupant and denotes a confirmed booking.
To download instructions on how to use our Special Room Use Monitor (SRUM) Spreadsheet please click here to download our PDF instructions. Download the relevant spreadsheet or PDF for your Wedding Package. Save it to your device before trying to alter it. Once you start entering your 'room reserves', save the SRUM with a different name, so the original 'master' always remains intact.
The SRUM templates below have not yet been altered to reflect the 2023 B&B tariffs.
The B&B tariff changes are valid from 01/12/2022 for new weddings booked after this date, and apply to all guests from 01/02/2023 for weddings booked before 01/12/2022.
The rate for extras above the first two occupants in family rooms changed from £30 to £50
.
Hence you will need to manually change £35 to £50 for extras in family rooms for 2023 and beyond.



SWP or FWP 50


50 Guests to stay overnight
Click the image to enlarge


Download


EXCEL or PDF



MWP

25 Guests to stay overnight

Click the image to enlarge




20 Guests to stay overnight


Click the image to enlarge




40 Guests to stay overnight

Click the image to enlarge
B&B & Planning
1.

B&B en-suites @

£75

/

guest based on two sharing an en-suite

.

Minimum of 2 guests @ £75 each per double en-suite room. Above 50 overnight guests, once all doubles are filled at £150 / room, B&B is £50/ guest, for extras in family rooms. Or £35/ guest (£70/ room) in budget Nurses Block.
Staying Night Before

1. The night before your wedding, if available, may be booked by your guests at a 30% discount (if staying in the same room two consecutive nights) subject to availability and the '6 month rule'.
2. The 6 month rule is applied to Saturday weddings in respect of Fridays. This means we wait till 6 months before your wedding, if your wedding is on a Saturday, before releasing bedrooms for your guests to book the night before.
3. For a Friday wedding we allow guests to book up to 10 rooms the night before, but keep a few rooms (15) clear for any possible midweek wedding booking, until 6 months prior to your wedding.
4. All rooms can be booked by your guests to stay the night before, if available, 6 months or less, before your wedding.
Dining night before a wedding

We need a minimum of 16 people pre-booked to open the dining room for dinners to be served the night before a wedding. Provided there is no exclusive use wedding or other exclusive event on the night before your wedding, we can serve evening meals to your guests. If you would like to have guests dine with us at the castle before your wedding, please let us know in advance.
We do not allow any food to be consumed on the castle ground floor / public dining areas, unless purchased at the Castle. Food not bought at the castle may only be consumed in the privacy of your own accommodation or in any self-catering accommodation – such as TGRA, TFFF, or Nurses Block - but only in the latter if it is booked out by a Wedding Party in its entirety, as in 'all rooms in the Nurses Building are rented out by your party'.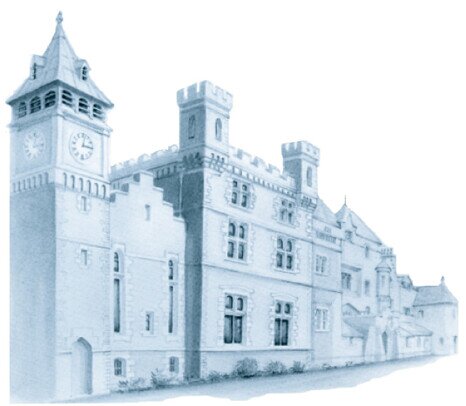 Enjoy a Homely Welcome and Friendly Service at Craig y Nos Castle