AB36: Large Double en-suite
The Castle > Our Bedrooms > Double En-suites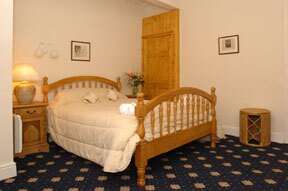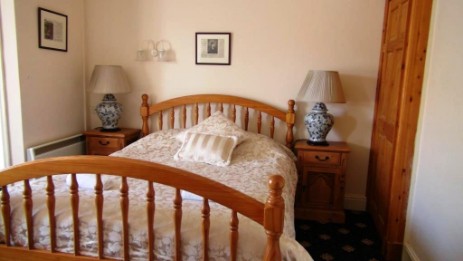 Room Information
Reasonably large en-suite double, mainly pine furniture, unmodernised, with basic white tiled bathroom livened up a bit by an unusual loo seat cover. Plenty of space. Bedroom has a blue patterned carpet - the only room in the hotel with a blue carpet. Plenty of floor space so popular with dog owners booking mid-week breaks. Bathroom has not been updated in years but it is large, shower over bath. Plenty of wardrobe space.

TV, Internet & Phone Information


Reasonably large TV and DVD player, 7 channels via hotel cable system. There is a Phone in this room but you will need a cable to connect your laptop to the computer slot on the phone for free internet use as there is no WIFI - either bring your own cable or ask for a spare one at reception.

New WIFI installed late 2018: WIFI in AB35 and AB36 intermittent, best from the bed.