Theatre Green Room
Plan The Day > Our Bedrooms > Family Apartments
Theatre Green Room
The Theatre Green room was a staff flat but has now re-joined the collection of en-suites following a facelift.
This room can be let as a self-contained self-catering flat, a double en-suite bedroom with lounge and kitchen as an added bonus, and it can also be used as a family room with the sofabed.
The Green Room can be let for the usual applicable double room rate and gives you a lot more space than a standard double. However there is a lack of windows in the lounge area
.
The kitchen has plenty of daylight coming in but you will find the lounge is lacking in daylight aside from a glass window above the entrance door. It is therefore an unusual room. A staircase leads from the lounge area up to the small double bedroom above.
This is a good room for dog owners because it opens up on to the theatre gardens, and it is also good for anyone on a long stay midweek break where they might want to be more self-sufficient on their catering.
The Green room is located off the path leading alongside the raised flat lawn area of the theatre gardens, accessed from the courtyard through the wrought iron gate entrance to the theatre gardens.
The outside wall of the theatre Green Room is shown in the 'external' garden photo on this
page.
TV, Internet & Phone Information

Wall-mounted TV. Has landline phone and good access to theatre WIFI.

The Theatre Green Room does have a green carpet but that is not why it is called 'the Green Room' - this is a term for the room actors in the Theatre used to have a rest in, and to calm them down, before and during performances. They used to be painted Green to act as a calming influence
.
WIFI as of 2019: Green Room has wifi accessible by changing to DHCP.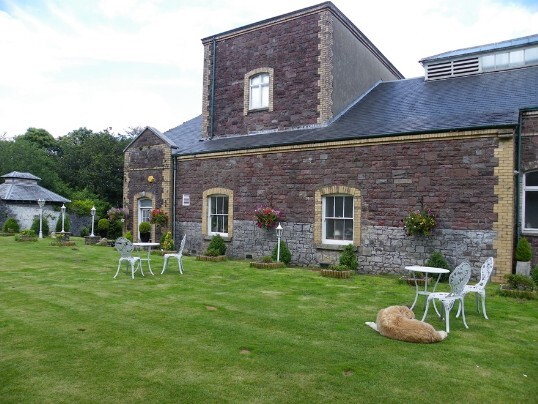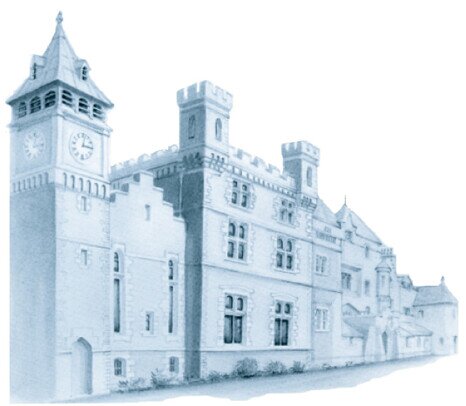 Enjoy a Homely Welcome and Friendly Service at Craig y Nos Castle