Merthyr Tydfil Wedding Venues - Craig Y Nos Castle Wedding Venue
Plan The Day > Wedding Ideas > Wedding themes by Town
This is our Wedding Themes by Town - 'Merthy Tydfil Weddings' Page. For wedding themes on other towns, click on Wedding Themes by Town Index or scroll down to the bottom of this page.
Merthyr Tydfil
Themed Weddings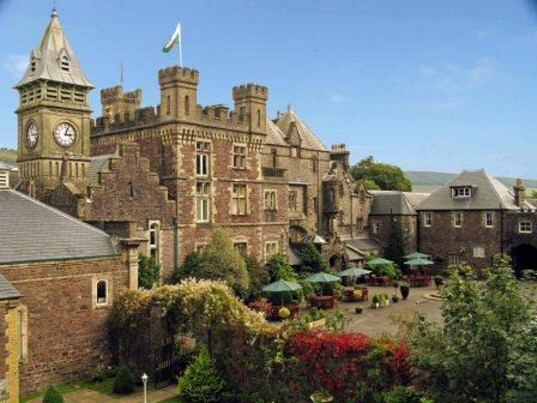 Merthyr Tydfil Wedding Theme ideas, or Wedding Decor and Wedding Gift Ideas, based on Merthyr Tydfil's history, style and culture.

Link your wedding theme, wedding decor and wedding favours to the history, style and sense of place in Merthyr Tydfil.

Your wedding theme may be linked to your own past, to key moments in your relationship with each other, your favourite colours, your personal tastes, or you may incorporate some elements of your home area within Merthyr Tydfil into your wedding day 'story book'.

When considering wedding decor you may already have plenty of your own ideas for your wedding. Or maybe you are still looking for inspiration?

Reflect the story of Merthyr Tydfil in your decor, to connect your personal history in your home city's roots, and your family's location in Merthyr Tydfil. You may get some ideas from the quick history of Merthyr Tydfil below, its buildings, street names, or local transport routes etc.


Interesting Facts About Merthyr Tydfil you may not know and could use in your wedding theme/ decor/ story:

1. Merthyr Tydfil population: 30,000. It was once the largest town in Wales, but is now the 14th largest.

For many years, until the Industrial Revolution, the Merthyr area was mainly populated by self-sufficient farmers and shepherds while Merthyr Tydfil was a small village.

2. Merthyr (probably meaning 'church' but the word also means 'martyr') Tydfil is named after St. Tydfil, daughter of King Brychan of Brycheiniog, who was killed by pagans in AD480. She had converted to Christianity and was killed by a band of Saxons and Picts.

A church was built on the site of her grave, hence the name Merthyr Tydfil could either be a reference to the church built in her honour or her martyrdom.

3. Romans arrived in Wales in AD 47-53, building roads and forts. A Roman road ran south to north linking the coast to Mid Wales via Brecon.

Many Roman roads, including one known as Sarn Helen, can still be traced and walked on. Sarn Helen former Roman road is now a dirt track I have walked back to the Castle on, having driven down the lanes towards Heol Senni and branched off onto the mountain lanes.

4. With the decline of the Roman empire, the West coast of Wales was subject to attacks from Ireland and a number of different kingdoms developed as the Roman garrisons left. Meanwhile the Saxons invaded England from the South and East coast and skirmishes would take place between the various groups of invaders.

5. Merthyr was close to plentiful reserves of coal, iron ore and limestone and the Industrial Revolution meant there was huge demand for iron and coal which was exported worldwide.

Dowlais Ironworks Company founded 1759 was the first major iron works in the area. It became the largest ironworks in the world, though for a while it had some local competition as Merthy Tydfil's Cyfarthfa Ironworks (opened 1765) was for a while the largest. Two other large iron works were based in Merthy Tydfil - the Plymouth Ironworks and Penydarren Ironworks. Dowlais ironworks and foundry was to continue producing iron for 228 years, eventually closing in 1987.

6. The iron was needed by the railways for the tracks and by the Royal Navy who needed cannon and not just in the UK; the iron rails made in Merthyr Tydfil provided track for railways across Russia to Siberia. During the C.19th Merthyr Tydfil was the iron capital of the world.

7. Cyfarthfa castle which is now a museum was home to ironmaster William Crawshay. Grand, castellated, and set in 160 acres of parkland Cyfarthfa Castle overlooked Crawshay's immensely successful Cyfarthfa ironworks. It is considered, "the most impressive monument of the Industrial Iron Age in South Wales."

8. Many railways opened up to transport the coal and iron: Brecon and Merthyr Railway, Vale of Neath Railway, Taff Vale Railway and Great Western Railway.

9. With the Industrial Revolution Merthyr Tydfil's population increased from 7705 (1801) to 46,378 (1851) and to 52,000 in 1861 before a period of decline.

Thomas Carlyle in 1850 described Merthyr Tydfil's workers thus: "unguided, hard-worked, fierce, and miserable-looking sons of Adam I never saw before. Ah me! It is like a vision of Hell, and will never leave me, that of these poor creatures broiling, all in sweat and dirt, amid their furnaces, pits, and rolling mills."

10. An uprising known as the Merthyr Rising in 1831 saw clashes between 10,000 marching workers and police, leading to some deaths, over wages that were reduced whenever the price of iron fell, and wages that were paid in the form of special coinage that could only be exchanged in employer owned shops that in turn sold shoddy goods.

11. By the 1880's the ironworks were closing down as Merthyr's inland position was not ideal for iron production. The population initially declined as iron workers migrated to America and even the Ukraine. However coal mining took over as a source of employment and by 1911 the population of Merthyr Tydfil had grown to 80,990.

12. By the 1930's all coal and steel production had gone into decline. Unemployment reached 80% and 27,000 people left Merthyr. New industries came to Merthyr after the war - Hoover built their washing machines at Pentrebach and later the Sinclair C5 was manufactured in the former Hoover factory.

Today Merthyr suffers from longterm unemployment but interestingly the coal industry is not completely dead; there is largescale open cast mining of coal near Merthyr.

13. A channel 4 programme in 2006 rated the Merthy Tydfil area the third worst place to live after London's deprived areas (this was revised to 5th worst a year later).

14. What later became Viagra was discovered in Merthyr Tydfil 1992, while researchers were looking for a new angina treatment.

15. Famous people from Merthyr Tydfil include:


Laura Ashley the fashion retailer,


Rolf Harris' grandfather,


Donny Osmond's family,


Dr Joseph Parry, Wales' most famous musician and composer.


Keir Hardie (actually he was from Scotland - see below)


16. In 1900 the Merthyr Tydfil and Aberdare constituency elected Scotsman Keir Hardie as their MP; he was the first Labour MP in Britain.

17. Merthyr Tydfil is where the first steam locomotive ran on rails, built by Richard Trevithick in 1804. The age of steam can still be experienced on the Brecon Mountain Railway at Pant, Merthyr Tydfil.

A special service runs in December in which Father Christmas meets the train and distributes presents to the children. At Pentrebach there is a tunnel which lies on the route taken by Trevithick's Steam Locomotive.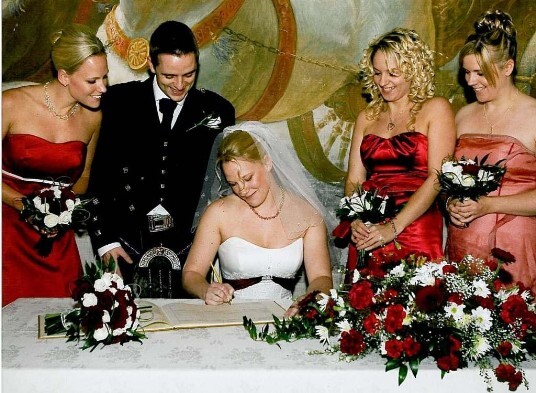 Time from Merthyr Tydfil to Craig y Nos Castle Wedding Venue: 34 minutes


Distance from Merthyr Tydfil to Craig y Nos Castle Wedding Reception Venue: 22 miles

Reasons for choosing this wedding venue over all others near Merthyr Tydfil:
Special Wedding Package offers Discounted Exclusive Use of the wedding venue (£1,000 at weekends saving £2,500 over the normal regular wedding tariff of £3,500 for exclusive use) to Brides and Grooms from Aberdare if you can invite 50 guests to stay overnight at the castle on a B&B basis (or free exclusive use of all ground floor function rooms and ceremony room if you have more than 125 wedding guests attending your wedding breakfast).
You can have all your guests stay under one roof for the duration of your wedding day. Party late into the night, with no worries about you or your guests getting back home. Craig y Nos Castle wedding venue can sleep up to 64 guests in its en-suites and family rooms and a further 20 guests in its non en-suite budget rooms. Craig y Nos Castle is probably the only castle wedding venue where all your guests can stay with you together overnight.
The wedding breakfast and welcome drinks are £50/ guest..
A unique Wedding Venue - the romance of a real Welsh Castle combined with the historic grandeur of our very own Opera House - yours for the day. We are the only castle wedding venue that has its own historic theatre in which you can get married. Our Grade One listed opera house is licensed for wedding ceremonies.
Exclusive Use available:
Craig y Nos Castle only accepts one wedding a day, so you and your guests will have the run of the whole ground floor of the castle exclusively.
All ground floor rooms for your guests:
Rather than be confined to just one room, you and your guests will make full use all four ground floor tall ceilinged reception and function rooms - see below: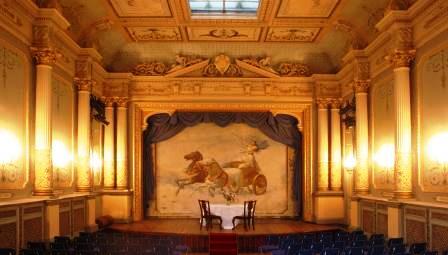 (1) The opera house for your wedding ceremony, where you will be the star of the show, on stage, before all your guests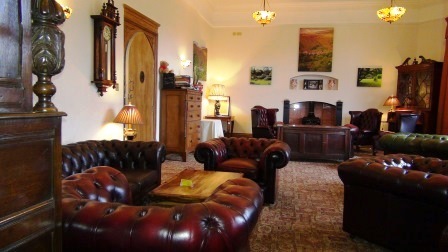 (2) Welcome drinks in the Nicoloni Room, our main reception lounge (or outside in gardens if weather is fine)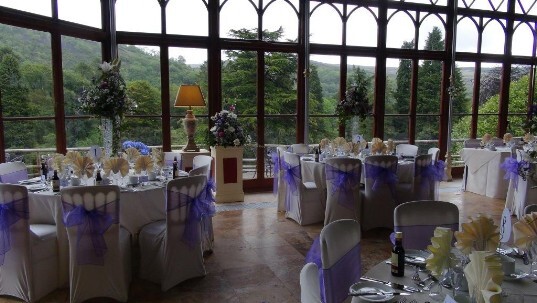 (3) Your wedding breakfast in our 120 seater conservatory with fabulous views overlooking the Brecon Beacons National Park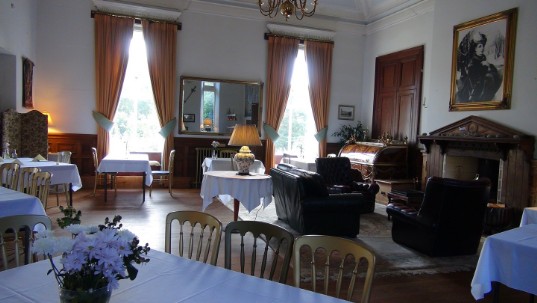 Some Wedding Theme Ideas based on the history of Merthyr Tydfill:

1. There are a number of historical facts you could incorporate into a story about Merthyr Tydfil, starting with the story of St. Tydfil. People who do not come from the area who are among your wedding guests may appreciate learning more about a town which has a most significant history, particularly in terms of the industrial revolution, for Merthyr Tydfil today is generally under-appreciated and under-estimated.

2. With four main ironworks in Merthyr Tydfil you could design table settings and centre-pieces reflecting Merthyr Tydfil's history as the 'iron capital of the world', complete with either framed pictures (easier) or replica models (trickier) of the four Merthyr iron works - Dowlais, Cyfarthfa, Plymouth and Penydarren - for your table settings.

3. I often think with our old manufacturing towns, a lot more can be done to reflect our industrial heritage. You could establish what products were and are made in Merthyr and feature some of the more memorable products on your table settings.

Well, you might draw the line at the Hoover Washing Machine, but it would be representative of domestic wedded bliss to come, perhaps.

On closer inspection, some of the products that were invented or produced in Merthyr Tydfil, such as the angina treatment that became Viagra, may not go down so well in a wedding theme.

You do have the Sinclair C5 which was made in Merthyr but that was not a resounding success. It could one day be considered the precursor of the modern electric car, so maybe in 100 years time we will look back and lay claim to Merthyr as being at the forefront of electric car technology. However the C5 was so low you could not be seen - you're probably safer on a Segway.

Your best link may be Laura Ashley who came from Merthyr.

Also the age of steam virtually began in Merthyr with the first train engine to run on rail tracks in 1804. Something certainly could be made of some of the products that came out of Merthyr Tydfil.

4. It might be going too far, but you could opt for a Laura Ashley themed wedding, given that Laura Ashley hails from Merthyr Tydfil. Visit a Laura Ashley shop for inspiration, but maybe don't be tempted to spend too much!

5. More could be done with steam engines generally, given the Brecon Mountain Railway runs from just outside Merthyr Tydfil. It may be possible to get hold of some train models for your table settings and have a steam engine theme or tie in with the local railway station names for your table names.

Or even - if you have any model railway enthusiasts - to include a modern railway set up in the Nicolini Lounge for guests and children to play with.

6. You may find it interests your wedding guests to include something of the story of Merthyr Tydfil, even if you just created a story board about the town in our lounge. Include photos of the C5, the first train, the iron works, the hoover washing machine and Cyfarthfa Castle.

7. Or simply name your tables after key features / buildings / places of interest in and around Merthyr Tydfil.

These are just a few 'off the wall' deas taking some inspiration from Merthyr Tydfil's historical past.



See our Special Wedding Packages

See what's included in our Special Wedding Package when you have 50 guests staying overnight. If you cannot get 50 guests staying but can invite 125 or more to your wedding breakfast, see instead our Members Club Wedding Package.

Are you looking for a local venue in or near to Merthyr Tydfil, or a 'destination wedding venue'?


You will not have thought of this, for you won't even have realised it yet - at least, not until reading this.

You will have one deciding factor above all others when choosing your wedding venue.

This is:

Will you 'go local', choosing a wedding venue in or near to Merthyr Tydfil,
or can you go further afield for a more special and unique wedding day?

Provided most of the evening guests are local, you will get lots of extras coming to the evening party. This won't happen if you choose a venue further away ('evening-only' guests won't travel far).

Or would you prefer a more intimate wedding venue, a 'destination wedding venue', where your closest friends and relatives come to your wedding, and where you invite everyone for the whole day?

When you choose a venue further afield, you'll need somewhere all your guests can stay overnight together. Craig y Nos Castle offers accommodation for up to 84 guests. You'll not want your guests traveling between two different locations (for the wedding and for B&B). It is better to have everyone stay at the wedding venue. Having your guests stay over means everyone will party with you late into the night as they have no worries about getting home.

Unlike with a local wedding, when you travel to Craig y Nos, you will not suffer the problem of some guests shooting off early to get home. This can be a problem with local weddings near Merthyr Tydfil as 'local' means the wedding party dwindles around 11-12 pm, bringing about an earlier finish to the day than you want.

A destination wedding venue such as Craig y Nos Castle in the Brecon Beacons best suits a wedding where you have the same number of guests invited to the wedding breakfast as to the evening do. It will not suit weddings where you want fewer guests for the day part and more for the evening do.


Initially you will consider many different wedding venues: some local to your area, some further away. You may even search for historic buildings and castles in far flung locations.

But when you come to your short-list, you'll consider not just your own preferences, but your guests' willingness to travel to your chosen wedding venue.

You may have some guests who live some distance away from Merthyr Tydfil, who will need to travel to your wedding anyway, so it won't matter to them so much where you get married. You may have more guests on your wedding invitations list who live local to you. These include your friends and neighbours and acquaintances and even work colleagues in and around Merthyr Tydfil, for whom it would be more convenient to choose a local wedding venue.

When you draw up your short-list of wedding venues, you'll be asking yourself - 'local or non-local'? This is a key decision you will make, even though you may not have realised it - until now.

You'll ask yourself, do you want a local wedding venue near Aberdare where all your guests can get to easily - even though you may not find your ideal venue locally?

Inviting a smaller number of guests to your wedding breakfast can sometimes save you money as you're saving on the main meal. This allows you to invite a load more to the evening party.

The decision whether to 'go local' or to go to a more interesting, unique and very special destination will be the first one you make, when drawing up your short-list of venues to visit. Going local means you may have to compromise on the quality and type of wedding venue, but if you are willing to travel, you have no need to compromise on the venue at all.


B&B Offers: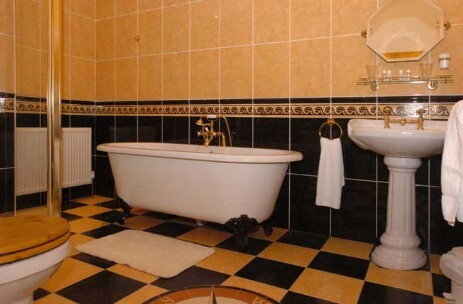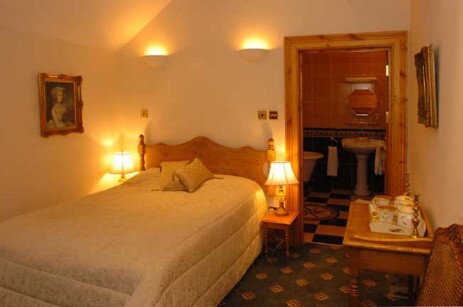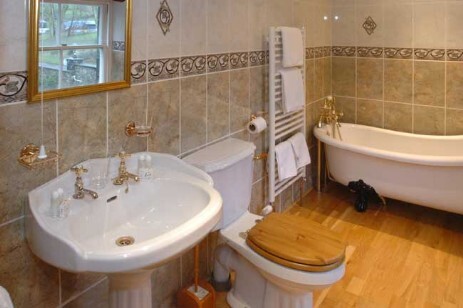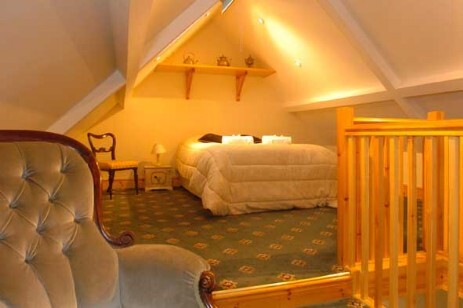 To give you an incentive to 'sample' and see Craig y Nos Castle, we offer wedding couples a discounted B&B offer. You can stay overnight for two nights at half price and make a nice B&B break of it. You can even invite relatives to have a look too, and choose a family room if you wish.

So why not combine your hunt for a wonderful wedding venue with a relaxing B&B break somewhere new and scenic!

Craig y Nos Castle is a popular destination wedding venue for couples all over the UK. It combines the attraction of getting married in a real castle, where you can become the princess of your own fairytale castle for the day, with experiencing a historic building (yours exclusively for the day) in an area of outstanding natural beauty.

The mountain scenery of the Brecon Beacons National Park guarantees you stunning photo opportunities both inside and outside the castle. The Grade One Listed Opera House makes a fantastic setting for your wedding ceremony. You get exclusive use of the whole castle ground floor function rooms and the ceremony room for you and your wedding guests completely free of venue hire when you invite 125 guests or more to your wedding breakfast.

Craig y Nos Castle is a truly magical and unique castle wedding venue that Brides and Grooms can now readily afford.