Our total Guest Capacity in our en-suites and other bedrooms
The Castle > Our Bedrooms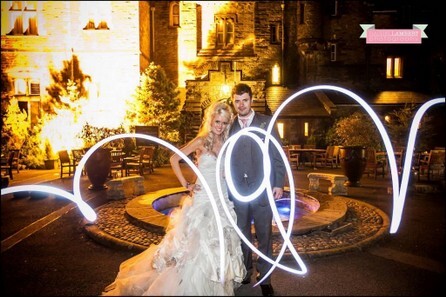 Craig y Nos Castle South Wales - Our En-suites

Your entire wedding party may stay with you under one roof. Our Special Wedding Package encourages this, as you get exclusive use of the venue when you have 50 guests staying overnight.

Party late into the night! Our en-suites sleep 81 at maximum usage in a mix of doubles and family rooms. 19 more can sleep inexpensively in our budget style Nurses Block.
At full capacity we can accommodate 100 guests, excluding rooms AB18,19,20 which are non-refurbished and reserved for staff and suppliers.


Put your guests into the most suitable rooms - use disabled rooms for elderly guests and family rooms for large families or adults willing to share. Have your guests book direct, quoting the room number you've reserved them.

Guests of a Saturday wedding may have no access to en-suites the night before as there will generally be a wedding on the Friday using some or all the accommodation. If the en-suites are full, your guests may stay the night before in the Nurses Block (capacity 21) but generally may not book into the en-suites when there's a wedding on the Friday (unless the Friday wedding is not using all the rooms).
Guests of a Friday Wedding should have availability in en-suites on the Thursday night, and provided there is no wedding on the Thursday they should be able to stay two consecutive nights in the same room with the first night at half price.
En-Suite Doubles on First Floor - Atrium Building
Click on the picture to go to the full room description
En-Suites on Ground Floor - Atrium Building
Click on the picture to go to the full room description
Nov 2019 Bride's Comment

(relevant to rooms the night before the wedding):
I've been waiting to have our wedding photos before leaving a review, so we could show off how amazing it all looks.
My husband and I got married here last month (13th September) after booking a last minute package. We cannot thank everyone enough for making our day magical, especially Emily.
Nothing was too much of an ask, and any problems or queries we had were dealt with professionally and efficiently.
There was a wedding at the castle the day before our wedding but thankfully there was accommodation available in the nurses block for me and my bridal party to stay at. This also meant we were able to decorate the conservatory and theatre the night before, even if we were still in there at midnight! But this took a lot of stress away from the morning of the wedding!!
Emily made sure that we were able to move up to the bridal suite on the morning of the wedding too so that we could have some photos getting ready in a nicer setting.
The ceremony, wedding breakfast and evening were all amazing. The day went by so quickly.... The staff were so kind and thoughtful and made sure that nothing impacted on our day.
The weather was amazing, the castle was perfect, the food was INCREDIBLE. It really was the fairytale day I'd always imagined.
Thank you all so so much and we'll hopefully be back soon for food or a night away! X
Theatre En-suites
Click on the picture to go to the full room description
You want to place as many guests as possible in the family rooms, if you have above 50 guests wishing to stay, to make full use of the extra beds in these rooms. Reserve the family rooms for your family guests and for guests whom you know will be willing to share. See details on room use and room reserving for guests here.
_______________________________
50% off Regular B&B Tariff
on the Night Before your Wedding
for two consecutive nights in same room
_________________________________

Guests staying two nights get the night before the wedding (if they are in the same room both nights) at HALF PRICE.
Do let your guests know this!
Otherwise guests who wish to be nearer the venue to avoid a long journey on the day of the wedding, may think they have to book into alternative accommodation locally on the night before your wedding.
Please do let them know they can in fact stay half price at the Castle the night before and be relaxed and refreshed on your wedding day.

NB: Saturday weddings are unlikely to have access to en-suites the night before as there will also be a wedding on most Fridays. Some off-season Fridays will be booked on the Last Minute/ Winter Weddings deal, which may require fewer rooms.
Friday weddings will generally find good en-suite B&B available the night before, so Couples who have booked a Friday wedding can encourage guests to stay the night before their wedding and take advantage of the half price B&B deal on the night before the wedding.
We can also offer guests staying the night before a simple group dinner deal for you all, the night before. Depending what you require, it could be something really simple such as a Curry for everyone, which they can have irrespective of when they arrive, for a low fixed cost per head. Or they can order from the bar menu if they prefer, on arrival, or they can prebook their dinner for a fixed time etc.
Two-night B&B deals, making a wedding almost a two-day event with an informal gathering of close friends and relatives the night before, is very popular now. This is the way a lot of our Friday and Midweek weddings especially are organising things. It gives everyone a chance to get together informally, and relax, before the Big Day.
Staying the night before allows everyone to get settled in, arriving at their own leisure, with no pressures or rushing about moving into rooms etc on the wedding day itself. Note that Guests cannot book in before 3 pm, even on the wedding day, so it is sensible to secure rooms for the night before at our half price rate, if they are available.
Making full use of the 25 En-Suites
Each en-suite should have two occupants at £75 PPPN (per person per night) B&B and then additional guests can be added to triples and family rooms at a flat rate of £35 PPPN B&B.
Achieving the full 80 in the en-suites is unlikely as you will not be using every single available bed. However it can be achieved with good planning! To help you make the most of our room capacity, see how to place 50 guests into the en-suites here.
To encourage all guests to stay, see our Letter to Guests encouraging everyone to stay at the castle here.
Craig y Nos Castle has a little over 25 en-suites: including doubles, triples, and family rooms sleeping 4-6. Families can share an 'apartment' together.

With 50 guests staying over, you qualify for our Special Wedding Package.
Guests pay £75 B&B PPPN (per person per night) based on two sharing an en-suite (£150/ double en-suite room) on the night of your wedding.
Guests pay half price the night before your wedding if staying two nights. Midweek half price is £35 B&B PPPN Sun - Thurs based on two sharing.

Click through the rooms one by one from AB11, to see rooms individually. We recommend brides allocate 'multiples' rather than couples to the family rooms to get maximum use of the castle accommodation.
_________________________
_________________________
As the official booking in time for all the bedrooms is 3 pm, most guests will not gain access to their own rooms until after your Wedding Ceremony. They can book into their rooms during the two hours allowed for Photographs after the Ceremony, before the Wedding Breakfast. All guests not staying the night before may get changed in the Sports Room. An early book-in time of midday can be arranged for a maximum of three to four rooms, for an 'early booking in fee' of £25 per room.
Alternatively, you may wish to arrange for some guests staying the night before in the larger rooms, to make their rooms available for other guests to change in. This is easier to do if you as the Bride book a family room in your own name. The best room to use is the Gatehouse. As this is by the entrance it provides a good changing area for guests as an alternative to using the sports room to change in. The gatehouse is also often used as a gathering and changing room for the Bridesmaids.
The separate Nurses Block can also be hired out at the regular tariff either the night before the wedding or the day of the wedding, or both. The Nurses Block provides inexpensive overflow accommodation if you have more guests wanting to stay.


Overflow a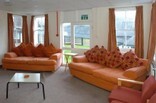 ccommodation in neighbouring 'Nurses Block' with 9 double non en-suites and one single room.

This accommodation is 'hostel standard'. Your guests should be advised of this and sent the budget accomodation link so they can decide if they wish to use this style of accommodation.

Sleeps 19 guests, at £35 B&B per head based on two sharing a double room. There is only ONE single room (NB11), so rooms 1-10 are all charged at £70/room whether you have two occupants or one occupant in the room. This is a reduced rate for wedding guests. The Nurses Block has its own lounge (left) and small kitchenette.

It is also suitable as a base from which to set up your Conservatory Wedding Breakfast tables the night before your wedding.

* One double room (Nurses Block room 2) is used by a long-term resident and is not available, hence Nurses Block capacity is 19 in 9 doubles and 1 single. Each double is £70/ night B&B based on two sharing (£35 PPPN) and the single is £35/ night.
_______________________
Single Occupancy Guests
_______________________
If you have any single occupants, they should be encouraged to use a Nurses Block room rather than an en-suite. If you are on the Special Wedding Package where you need 50 occupants at £75/guest in the en-suites, you do not want to have singles occupying any of the 25 en-suites.
An exception to this principle can be made if you use the family rooms for some of your £75/ head guests - such as Room 15 and TFFF.
Single occupancy of the en-suites reduces your double en-suite capacity and may prevent you reaching 50 guests comfortably spread over the 25 en-suites. We always charge singles the double room rate unless you specifically advise us to allow singles to occupy en-suites at £75/ head. Single occupancy of a Nurses Block room is £70/ room and of an en-suite is £150 / room.
Optional 2-night B&B Deal
£35 B&B PPPN on the night before the wedding
based on two sharing a double room
Wedding guests can stay two nights and get a 50% discount on the second night's accommodation, provided one of the two nights falls mid-week (mid-week = Sunday to Thursday night) and provided they occupy the same room both nights.
Your wedding guests pay the normal wedding tariff on the wedding night (which counts as their 'first night') and the 'second' night (the night before the wedding) is at 50% off the standard mid-week B&B tariff for two. This means the night before the wedding is reduced to just £70/room B&B (£35 B&B PPPN), based on two sharing a double en-suite.
While the mid-week dates can be booked as far ahead as you wish, or reserved as far ahead as you wish, the Fridays and Saturdays can only be booked up to 6 months ahead. This '6-month rule' applies to Fridays and Saturdays only, in case we have a wedding booking wanting the date and requiring the en-suites for their own wedding guests.
If your Wedding is on a Sunday or Saturday, and you have guests wishing to stay the night before your wedding, you should instead book them into, or reserve them into, the Nurses Block rooms. Later, subject to availability and 6 months prior to the wedding day, you can upgrade them to the en-suite room they're occupying on the wedding night, if it is available. Whether they stay the night before in the Nurses Block or in the en-suite they will have on the wedding night, the rate is the same on the night before the wedding, at just £35 B&B PPPN (half the regular mid-week en-suite tariff).