Videographer at Craig y Nos Castle Weddings
Wedding Planning > Our Suppliers > Photography
PJA Video
P & J A Video Enterprises, Mr. Peter Rees, 23 HEOL MORLAIS, HENDY, PONTARDULAIS, SWANSEA SA4 0FF.

Tel: 01792 884 860
Mobile: 07745 580 866
Email: peter@pjavideo.com


PJA Video operate state of the art digital video cameras to capture every aspect of your big day. Edited with copyright free music and stunning special effects to enhance the final production. Chose from video or DVD, presented on a personal disc available in a choice of presentation cases.

PJA Video is a small family business set up in the heart of South West Wales,we have been operating for just about 12 years or more now but filming for a lot longer, striving to offer our clients the best in Video Production at reasonable prices.


From Weddings to Christenings,Sports to Special Occasions we can capture that unique moment in time that you can re-live by watching in the comfort of your own home. We use the latest in video technology to edit your precious moments on to high quality digital master tapes,then copied down to a video format of your choice,but mainly on DVD.

We can now offer Hi Def, 3 camera shoots on Blueray DVD. Requirements for play back are a HD ready TV with a compatible Blueray player or Playstation PS3.

Make an appointment and see this amazing new format it will take you breath away.

So why not take a trip with me to A WORLD OF EXPERIENCE with PJA VIDEO ENTERPRISES.


21st Wedding Films
Tel: 01600 860 100
email: info@21weddingfilms.co.uk

A critically acclaimed professional wedding video company dedicated to bringing you beautiful, contemporary, cinematic wedding films at competitive prices. click link below to visit their website and view their demo films, pricing and further information.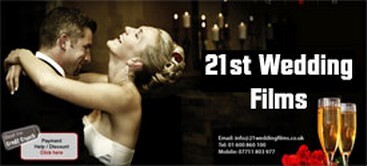 21st Wedding Films is one of the countries leading professional wedding film companies. We film & produce truly stunning, inspirational films shot in HD, which we can output onto DVD or Blu-Ray.

Our reputation for creating some of the best contemporary wedding films you will ever see has been developed over several years, and it is due to our discreet reportage approach & attention to detail.

21st Wedding Films has a reputation for quality & will promise that your film will be something that people will enjoy for generations to come.

Whether you require one wedding videographer or two so that you can truly capture every moment in detail, 21 Wedding Films will provide you with the service that you require.


Katrina Dimech
Shutter Hire Videography & Photography

Email: info@shutterhire.co.uk
Website: www.shutterhire.co.uk
Address: Shutter Hire, Penarth, CF64 1NP
Tel: 07703 774 166

At Shutter Hire we believe in supplying an affordable service. So you will find our prices extremely reasonable and competitive.

Our team are friendly, approachable and patient. If you are looking for camera operators who are fun, artistic and hard working then look no further. We consider it a privilege to be the people who capture your memories of your special day, when two people's lives become one forever after.

Shutter Hire was founded by an award-winning filmmaker who attends every event. We use HD camera equipment and professional sound recording devices. Our equipment is modern, we use a range of lenses and we always have two camera operators at every wedding to ensure the most comprehensive coverage.

We can complete your video within one month of your wedding day, which is fast. This means you will not be waiting long for your video.


Traditional Package: from £300

Includes: Two Videographers, Editing Charge, Ceremony, Signing of the Register, Video Coverage of official photo shoot, Copyright free DVD, and highlights montage.


Storybook Package: from £500

As above, PLUS Arrival of the groom and guests, arrival of the bride and bridesmaids, posed cutting of the wedding cake, speeches (after which the crew leaves).


Fairytale Package: from £700

As Above, PLUS First Dance, Video Guestbook, Evening Coverage until 9pm, Bride Preparation, Personalised Disc, Cutting of the cake (in real time as opposed to posed), Personalised Hanger for capturing the dress.




Gower Video
Tel: 01792 234 076.
Email: jane@gowervideo.co.uk
Website: http://www.gowervideo.co.uk/

Gower Video is a successful, experienced and friendly company who believe in making your wedding DVD something you will treasure. To book us please contact Jane at jane@gowervideo.co.uk or phone Swansea (01792) 234 076



We are an established company that understands how to film your day in an unobtrusive way and get stunning results – giving you a wedding film that is like a movie. We pride ourselves on quality and creative beauty. We may not be the cheapest, but we are certainly one of the best.

Couples tell us that only after the wedding did they realise the true value of their wedding DVD. We at Gower Video understand this and make your wedding DVD a personal, beautiful and creative film that you, your family and your friends can watch over and over again.

We always use two professional–grade cameras and camera–people, and our experienced creative–director and editor has a degree in filmmaking. This combines to give you a stunning DVD.

See sample wedding video at Craig y Nos.

The below prices are an indication only as they relate to 2011.

Foundation Film – £900
You will have the services of two camera people using broadcast-quality cameras.

The package includes filming of the following:
Wedding Party Arrivals: (at the Church or wedding location) of the Groom, the Best Man and the guests, the arrival of the Bride, the wedding ceremony (subject to permission), Signing of the register (subject to permission), Romantic montage feature, set to your choice of music, The official photographs.

Wedding Reception venue: The wedding breakfast, The speeches, Cutting the cake, Approximately an hour-long Feature plus a short Highlights Montage, all edited to your choice of music.
Plus: Full DVD menus. Three personalised copies of your wedding DVD.

Optional Additions:
The 'at home' preparations of just the Bride or the Groom. – £125, The 'at home' preparations of both the Bride and Groom. – £175, Evening celebrations and the Bride and Groom's 1st dance (until 21:30). – £175, "MARRYOKE" production. – £250
Guests' goodwill messages. – £125, The "Night Before" party. – £150, Bride and Groom interview. – £150, "Early Years" montage, – £110, Personal Web Page, – £125, High Definition (HD) – £200 extra.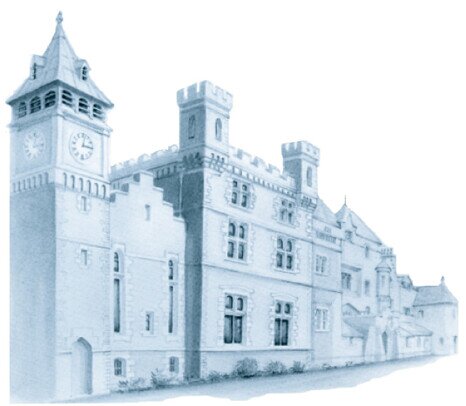 Enjoy a Homely Welcome and Friendly Service at Craig y Nos Castle