Wedding Reviews Craig y Nos Castle 2023
Wedding Packages > Brides Reviews
Craig y Nos Castle Wedding Venue
16/03/2023 We recently had our wedding at the castle it was such an amazing venue, the theatre which held the ceremony was spectacular, the conservatory where we had our reception was breathtaking and the function room for the evening was fabulous. All the staff were so helpful and attentive throughout the day and night especially Emily and Chloe who went out of their way to make our day special, they took care of all the arrangements and organisation throughout the day to ensure it was perfect for us and all our guests. The food was excellent and we can honestly say that we could not have asked for better. Thank you all at Craig y Nos.
11/02/2023: Hi, so sorry for very late feedback but we literally got married then moved house and jobs and its been hectic.

We had a beautiful day for a wedding and nicola went above and beyond and was reminding me of things i wanted that just didn't even cross my mind on the day.

The food was amazing and all of our guest commented how amazing the food and the scenery around the castle was.

Thankyou for making our day so special and we will defo he returning guests for years to come.

Charlotte & luke
12/01/2023:

Our wedding on the 30th December was amazing the staff couldn't do enough to make it special.
10/01/2023:

We've just had a family wedding at Craig y Nos Castle and had a truly delightful time, fun was had by all. The staff are truly amazing, they work really hard to ensure everyone is looked after. The Castle is a sight to behold just beautiful. The food was amazing from the meal the evening before the breakfast then the wedding meal was absolutely top notch. You couldn't wish for anything better.

Our accomodation was so lovely very comfortable and as with the castle full of character. A surely wonderful place.
07/01/2023:

Tony Marshall recommends The Official Craig y Nos Castle.

Me and my wife recently got married at this beautiful venue in the Brecon Beacons. What can I say that would accurately describe our experience? Well, stunning doesn't quite capture how much we love this place. From the setting, to the castle itself, the food and the people/staff (first class service provided). Everything about Craig-Y-Nos was perfect on our special day. We loved every minute and we didn't want to leave the following day. We couldn't recommend highly enough.
Trip Advisor Reviews 2023
May 9, 2023:
A Wedding that could't have been any better
Our wonderful daughter got married at Craig y Nos on the 29th April 2023, what an amazing day it was.
We stayed the night before and the night of the wedding and we could not fault the staff who were all so genuinely friendly and helpful in every way.
From the initial meeting with the wedding planner through to the end of the wedding day and to the morning after, staff could not have been more helpful and supportive.
As parents of the bride we have to thank the reception staff, particularly Jen, Lisa and the others. Sorry we cant remember everyones name but all were so helpful as was Kelly, front of House manager. It seems we phoned Craig y Nos at least a thousand times and never did we get the impression we were a bother and all questions were answered.
From the reception staff to the kitchen staff, from the domestic staff to the maintenance staff each one we met were interested in how the day had been and also if they could help in any way. Thank you to you all.
We were delighted with the wedding planner Dani, she was so helpful and supportive and due to her and her colleague (Chloe ?) the day went as a dream wedding should be. W
e have to make a special mention to the chef and catering staff, in the wedding party there were vegetarians, vegans, non alcohol drinkers and alcohol drinkers and those with specific dietary such as certain food allergies and one guest who was halal. All at the wedding commented they had a wonderful wedding breakfast, canapes and the evening buffet. What was particularly positive was that at the wedding breakfast all had their food piping hot. In some weddings we have attended the 'Top Table' gets hot food and by the time the last table is served food is lukewarm, this was not the case at Craig y Nos.
Staff were so helpful with decorating the venue to our daughters wishes and also took the decorations down at the end of the evening.
What a wonderful day we had, then the next morning the breakfast was wonderful.
If anyone is planning a wedding and you are considering Craig y Nos, you will have a wonderful time there.
Thank you Craig y Nos
May 6, 2023: Best wedding reception ever!

The staff just can't do enough for you! Food was incredible. Rooms were a little dated but was expected given the age of the castle. You're given a 5 star service when having hour special day here. Felt like royals! Wedding planners are great, couldn't do enough for us.
Jan 2023:
Truly amazing and wonderful
We've just had a family wedding at Craig y Nos Castle and had a truly delightful time, fun was had by all. The staff are truly amazing, they work really hard to ensure everyone is looked after. The Castle is a sight to behold just beautiful. The food was amazing from the meal the evening before the breakfast then the wedding meal was absolutely top notch. You couldn't wish for anything better.
Our accomodation was so lovely very comfortable and as with the castle full of character. A surely wonderful place.
Letters and Cards sent in by Customers 2023
17/03/2023:

Morning Chloe,

Apologies for the time of the email. I'm back to reality and working nights.

Just wanted to say a massive thank you again! You have still blown my mind at how amazing you were! Well all the staff. What's the best email to email Michael and Martin to give them feedback and say a massive thank you to them as well?

I've been telling everyone that Craig y nos is the place to get hitched! We will 100% be back to do a ghost tour with our guests! Love that idea! ................

Thanks so much.

I just can't express how grateful I am that you, ade and Emily made my day so perfect! 💓 I will never forget how you all made my feel and also how perfect you made the rooms look! ❤️

Your biggest fan... Amy x
13/03/2023:

Dear Kelly, Dani, Emily and team,

Thank you so much for making our wedding reception on Saturday amazing! Everything was so organised, and the team seemed to run like a well-oiled machine. The food was absolutely delicious and the team truly made our decoration vision come to life. We couldn't have asked for a better wedding reception.

We think we've left a couple of things behind - bathroom boxes and a basket that had cardboard cake slice boxes in. Would we be able to come up and collect them?

Kind regards,

Lucy and Rhys.
18/02/2023:

Hi Dani,

Thank you so much we are still very much holding on to our bubble of happiness, I can't believe it's been over a week already it was literally the most magically and happiest day of my life.

A massive thank you especially to yourself, chole, and the chef.

And too all the other staff on our day you were all amazing and made sure everything went smoothly.

We literally felt like the castle was our home for the time we were there no way any other venue could do that or provide the over and above service that you guys did.

We will 100% be back visiting and coming to your events throughout the year.

I have a wedding admin list, and to leave an epic review for the castle and you guys is top of the list so i will do one I promise the castle and you guys throughly deserve the recognition.

Thank you all for making our day so special. Kath.
Wedding 28/01/2023:

Hi Emily,

James and I would just like to say how absolutely amazing our wedding was yesterday.

Everything ran so smoothly, was so organised and we didn't feel rushed to work to a timing at all.

The staff are absolutely incredible, we couldn't have picked a more perfect place for our wedding.

Please will you pass onto Nicola how fantastic both you and Chloe were, sorting out a little hiccup before the night before, helping my mother get dressed when she was rushing to get to the theatre and just generally being the best.

The day was filled with memories we'll treasure forever, made all the more special by you and your team!

Thank you so much again, R

hiannon and James xx.
Jan 2023: Hi there Emily and lovely reception staff Firstly, congratulations Emily and we think you had a good excuse to miss our wedding 🙄😂 we forgive you but your colleagues covered beautifully.

A really big thank you to all the amazing staff at Craig y nos, who made our day on the 30th December so special. We have received universal praise from all our guests, many saying it was the best wedding they'd ever been to! and everyone had a wonderful time, especially us!
........... Glad you're nominated for an award, well deserved 👍🏻👏🏻
We are sorry it's all over 😏 but thank you so much again Kind regards Geraldine and Martin O'Sullivan
Customer Feedback Forms Reviews 2023
- these are forms completed by customers who have stayed the night at Craig y Nos Castle.
07/05/2023 - AB25:

Thank you so much to all the staff at Craig Y Nos that made my son and

daughter in laws wedding the most amazing day! We are eternally grateful. Y

ou have helped us make wonderful memories to last a lifetime, best
wedding venue we have ever had the pleasure of dealing with, absolutely

nothing was too much trouble and you really did take over the whole event

with such ease and did things we never would have thought of! Dani you are

a superstar and such a credit to the team thank you to each and everyone at

the castle.
06/05/2023 - AB15:

The wedding was beautiful food was amazing and a lovely location and

beautiful Castle.
03/05/2023 - AB34:
We definitely will be visiting here again since we got married here we have
said we will return each year on our anniversary, it's such a special place to
us.
01/05/2023 - AB34: N
othing was too much trouble food excellent quality, cooked to perfection. (Staff service)
kind, thoughtful, cannot fault the standard of service received. R
oom spotless, decorated to high specification, everything you would expect in
the room. E
xcellent walking, grounds well maintained,
we will definitely revisit. highly recommended, you can also take your dog
whilst staying overnight. I
f you are in the area put it on your highly rated list, indulge yourself, quality
overnight stay excellent value for money. the service you will receive is

excellent
30/04/2023 - AB30:

We had our wedding there. All staff were absolutely outstanding and made

the day extra special. Every single person cared and went above and beyond.
18/03/2023 - AB21:

The wedding meal and morning breakfast was outstanding highest of

compliments to the chef. Would highly recommend to family and friends.

Polite courteous and extremely helpful.

A truly lovely wkend and a very special day to remember at the Craig Y Nos

Castle.
18/03/2020 - AB20: Considering I was in hostel accommodation I was SOO pleasantly surprised! The room was beautiful, toilet and facilities spotless and totally adequate! Would honestly choose the same room again and again. (Editor note: while this guest was happy with AB20, it is a non-ensuite, not refurbished, and decor such as it is, is pretty much as we found in when we took the castle over in 2000. Really only used as overflow when absolutely nothing else left.)
11/03/2023 - TFFF:

The food was cooked to perfection. Everyone at the wedding commented on

how good the food was. If I had one little gripe it would be that it was

supposed to be Baileys in the cheesecake but I couldnÆt taste any.

All the staff were very friendly and helpful.

We would like to stay at Craig y nos again. Our rooms were lovely and the

showers were wonderful. Several other guests have said the same, that they

intend to revisit.
11/05/2023
Katie Wrigley 5
/5
26 minutes ago on Google
We had our wedding here in April, Chloe and all the team were fantastic leading up to the wedding and on our special day. We cannot thank you all enough for all of your help, support and advice. We would definitely recommend having your special day here.
Rooms: 5/5 | Service: 5/5 | Location: 5/5
Thank you for your great comments - it is brilliant to hear your positive praise for Chloe and the rest of the team and it is good that you found all the infomation provided useful to you in the run up to your day and that on the day, all things ran smoothly. We are all thankful to your recommendation. M!chael
01/05/2023 Sian Davies
Review left by Sian Davies
Beatiful senarys a place very close my heart ❤️ use share my long lost partner we use love come hear regular visits loved food out doors had some wonderful times hear staff very polite and friendly 1 my favourite places all time 🙂❤️
Thanks for the 5 star Sian. It is great to read your positive comments, under the circumstances and hope the Castle gives you some inner peace. It is great to hear that you find our staff polite and friendly. M!chael x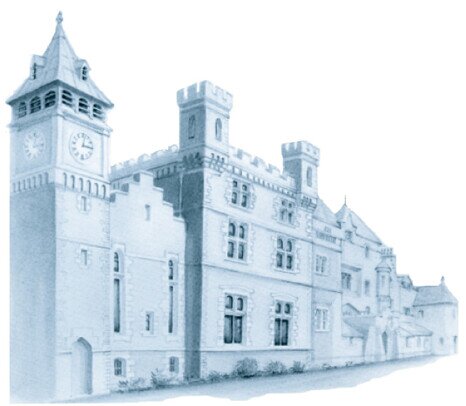 Enjoy a Homely Welcome and Friendly Service at Craig y Nos Castle