LoveHair


Enjoy the benefits and expertise of a fully qualified and experienced wedding hairdresser visiting your home or hotel. Sit back, relax and enjoy this wonderful experience on your big day! With a full consultation included, all you have to do is enjoy being pampered. Our wedding make-up artists will enhance your natural beauty without altering your individual style, guaranteed to make you to shine.Our brides can't help but feel great on their wedding day.

Website http://www.lovehair.co.uk/

Team of 35 experienced professional stylists
Large gallery of wedding hair ideas- as seen on channel 4 beauty
Bridal packages available
We cover the whole UK
Reliable, friendly & great customer service

Professional
Our stylists are some of the best in the business. Working as full time freelance stylists means they spend their weeks styling celebrities, models and lovely brides for photo shoots, television, film and music videos. This means that you can benefit from professional reliable and experienced hairdressers with the ability to make you look like a star on your wedding day.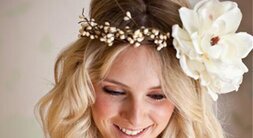 Reliable
We have never let a bride down. Human error, sickness , accidents and the law of average says that this won't always be the way. But we say it will. We work in a team and we always leave a stylist free to stand in just in case the unforeseeable happens. So we will pass over instructions and photos from your trial and recreate the look with another stylist, leaving you feeling confident that we'll be there and that your look will not be compromised in the slightest.

Creative
Hair up, hair extensions, vintage styles, plaits or side-dos. You name it we can do it!! Can't see what you're looking for? Get in touch; we LOVE talking hair! You can also see our galleries and tips on the Channel4/beauty website or in the 'expert advice pages' of 'Your Surrey Wedding'.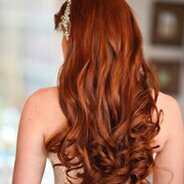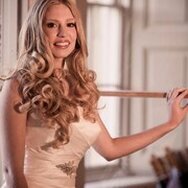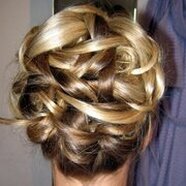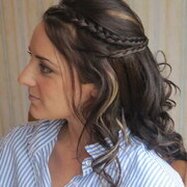 Friendly
Your stylist is going to be with you on one of the biggest days of your life, so it is important you like them. For that reason we only pick stylists that are not only amazingly skilled at creating all hair styles, but who are also personable , patient and reassuring, so they will be a pleasure to have on your 'team' on your wedding day.

Bridal Make up by Lovehair
All our make up artists are professionally trained with extensive bridal experience.
For larger bookings you can have a seperate hair stylist and make up artist at no extra cost.
Some of our make up artists specialise in hair styling too, so no need to have 2 separate artists if you want to keep it simple.

All of our make up artists can provide false eye lashes if required.

The lovehair make up artists use their own products, a medley of brands they find work for them. They would be happy to discuss make up with you or equally happy to use any of your own make up if you prefer. If you are after a specific look ask the booking team, as some artists specialise in a certain type of make up. This could be for older or younger skin, scarring, tattoos or skin imperfections that need covering up. You may want a true vintage or retro look, or something more on trend. We have the right make up artist for you!

Brands you'll find in a Lovehair make up artists' kit include: Nars, Smashbox, Mac, Laura Mercier, By Terry, Chanel, Bobbi Brown, Stilla, ShuUemura, Chantecaille, Jemma Kidd, Dior.


Why get your make up done on your wedding day?


So what can our make up artists offer you on your wedding day?


Make up with enough coverage to withstand all the hugs and kisses from family and friends.


A flawless look which will be captured through the camera lens - you'll be looking at the photos for years and years to come.


Perfect make up application to enhance your best features.


Long lasting make up to give you confidence that you're still looking hot as the evening guests arrive.


Our make up artists attend regular Master Classes to ensure they are up-to date with current trends, new products and the latest techniques.


Many brides worry about acne, scarring or tattoos that they would rather to hide. We can help with this too.


call us on 0870 4460746 or email bookings@lovehair.co.uk.

Next Page: Wedding Carriages and Cars