Jewelers for Craig y Nos Castle Weddings
Wedding Planning > Our Suppliers > Beauty & Clothes
Gill Clement Bespoke Jewellers


Website: www.gillclement.com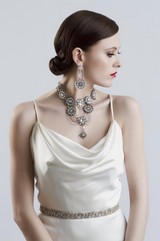 Email: alex@gillclement.com
Contact: Gill Clement
Address: 91 Newton Road, Mumbles, Swansea, Wales, SA3 4BN
Telephone: 01792 362262

Gill Clement is a British jewellery designer, based in Mumbles, South Wales, designing and creating jewellery in her working studio at the back of her independent boutique. The designer is renowned in the village, and the southern part of the country, for her intricate designs and eclectic mix of materials producing unique jewellery and bridal wear.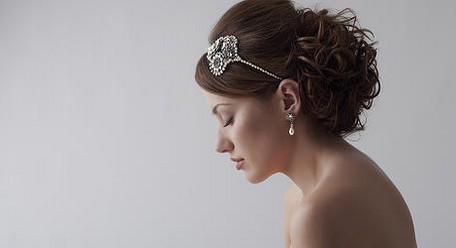 The brand has two components; the classic collection of jewellery that is handmade all year round in the small studio by Gill and her team, as well as a bespoke bridal service that offers a personal approach to choosing bridal accessories.

Drawing inspiration from vintage design elements, Gill's creations are delicately handmade using pewter filigree mixed with fine pearls and crystals from the SWAROVSKI ELEMENTS range, which is the premium brand for fine loose cut crystals manufactured by Swarovski. Her bridal collection is a bespoke range of intricate head pieces and accessories for the elegant bride who wants jewellery that is often reminiscent of the past.

Using a mixture of materials, encrusted with hand stitched SWAROVSKI ELEMENTS, Gill Clement prides herself on ensuring that each of her brides has the best and most individual service, to create an heirloom piece that will be passed through generations, and reflect a very special and timeless style.


Gill says: "We take great pride in offering a bespoke bridal service that allows us to communicate and understand our brides needs. Each of our accessories takes vintage inspiration and we create heirloom pieces that our brides can treasure forever.

The 2014 collection is a delicate range of jewellery with a soft, feminine sparkle. Created from an eclectic mix of materials, fashioning a range of head pieces and accessories aimed at the modern elegant bride.

The collective of layered pewter shapes, are hand encrusted with SWAROVSKI ELEMENTS pearls and crystals, and are often framed by wire tulle. Different beads are hand sewn to create floral petals that suggest the romantic ethos that is consistently apparent within the brand.

Our tiaras start at £195, please visit us in our boutique to discuss any commissions or having bespoke bridal jewellery created for your wedding day."

Part of Gill's bridal collection is now also available in Rhodium for the first time, creating a softer appearance to many of the pieces, adding another element of femininity and shine to the vintage inspired range.


For loads of pictures of brides - copy and paste the following link into your browser: http://www.gillclement.com/#!real-brides/c13ff


Gemsations Jewelers


Website: www.gemsations.co.uk
Address: 19 Ludlow Street, Penarth, Vale of Glamorgan, South Wales. CF64 1EW.
Telephone: 0845 388 5158
Mobile: 07789844280

Handmade Jewellery to Order, Handmade in Wales - I make jewellery using a mixture of different elements. Gemstones, quality beads, Swarovski crystals, Sterling silver, fine silver, copper or silver plate.

All my products are contemporary in design and unless stated otherwise, are completely unique to you.

I am a firm believer that gemstones can help our quality of life. If you feel drawn to a particular metal or stone you can be sure that it will help, whether in a physical or psychic way.

I hope that you have as much pleasure from wearing your items as I do creating them.

As the items are made to order (unless otherwise stated), please allow 7 days from ordering for the delivery of your order. Delivery costs and packaging are included in the price (UK Only).


Selwyn Gale Jeweller


Website: https://selwyngale.com
Email: selwyn@selwyngale.com
Phone: 01443 405 889

My work is modern classical. I first developed an interest in silversmithing as a student on a teacher training course. My interest developed while teaching, and I gained a Final City and Guilds in Goldsmithing and Silversmithing in the early days of my teaching career.

Making silverware is time consuming and has a limited market. I wanted to work in precious metals but to do so I needed to sell my work and that wasn't easy. I transferred my skills, taught myself jewellery making and developed a keen interest in gemmology.

In 1969 I won a silver medal in the Welsh National Eisteddfod for a silver and black opal pendant and chain, that was the last time I entering a competition! At this time I was near to leaving teaching to work full-time as a designer craftsman but got married and we needed the security of a regular income. A career in education took over (and was very much enjoyed) but I always promised myself that I would be creative again and the opportunity came with an early retirement from full-time education in 1997. I am now thoroughly enjoying myself designing and making.

My work is based on the central principles of the mastery of the craft, innovation and experimentation, bearing in mind always a wish to enhance wearers and present gemstones to advantage. I have been a member of the prestigeous Makers Guild in Wales since 1999 and I was chair of the Guild from 2002 to 2006. Taking an interest in supporting and promoting high quality design and craftsmanship is important to me.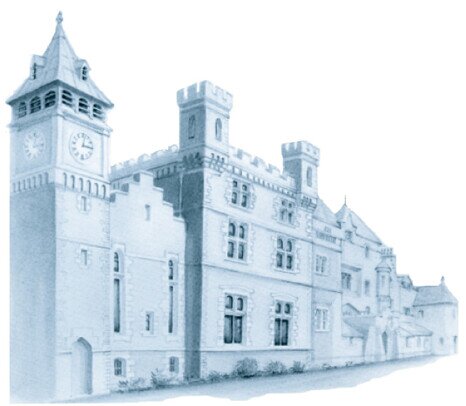 Enjoy a Homely Welcome and Friendly Service at Craig y Nos Castle