AB11: disabled triple - sleeps three
Wedding Planning > Our Bedrooms > Disabled Rooms
Large disabled bathroom with sit-down shower but no bath. The room itself is large, with a double bed and a single bed. It is on the ground floor, so suitable for elderly, and very close to the Conservatory, so again, convenient for a disabled person to get from the Conservatory to a disabled friendly loo.
Access either up ramp and internal door, or through double doors from atrium yard.
This room will be close to any noise if a wedding's evening function is held in the Conservatory but as we now encourage all larger weddings to hold their evening party in the function room at the other end of the building, and away from accommodation areas, this is only an issue with smaller weddings that remain in Conservatory for their evening party.


Room is also suitable for dog owners on B&B breaks as it backs on to the Nurses Block grassy area and has double doors that open directly into Atrium Courtyard. It also has use of a covered area and wooden seat for sitting outside just outside the double doors.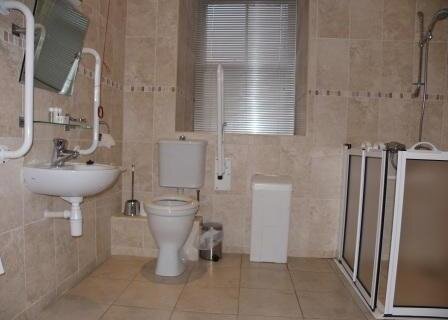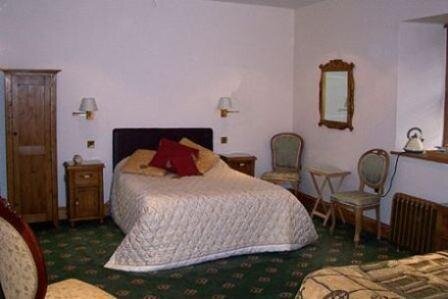 TV, Phone & Internet Information
New TV, hotel cable system with 7 channels, 32" LCD, Ceilling Mounted, facing double bed. Socket ready for second TV for carer's bed but no second TV in situ at moment.
Has telephone which you can plug a computer into for internet access (either bring own cable or ask at reception for a spare cable). New WIFI installed 2018; has strong signal.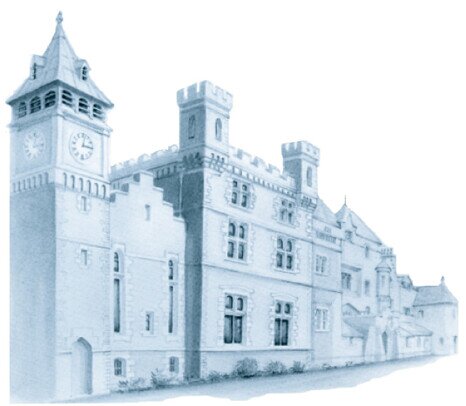 Enjoy a Homely Welcome and Friendly Service at Craig y Nos Castle