Visiting and staying at Craig y Nos Castle on a Special half-price B&B Deal
Weddings in Wales at Craig y Nos Castle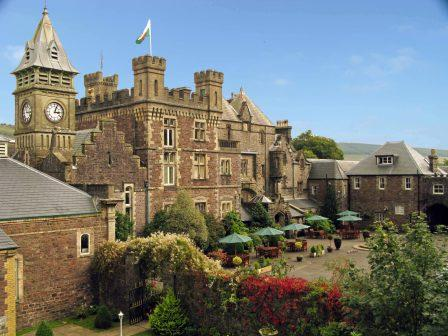 If you are some distance from Craig y Nos Castle Wedding Venue and have seen our website on Google, you may, like many people, be tempted to fill out our viewing request enquiry form. However when it comes to visiting, and travelling down from the Midlands or from London etc, you should really consider staying over a couple of days to make the trip worthwhile.

Otherwise you may not be so ready to make the trek. At least, not just for a same day trip here and back for just the wedding viewing.

As you will see below, there is so much more to do in the area than just come and look at the castle!

If you are from London or England, we are as far as time goes, not that far away. I can regularly drive from London to the Castle in 3 hours, though I am slowed down by the 50 MPH sections. Admittedly I am coming from Maida Vale in West London, which is only 20 minutes or so from the M4. If you are coming from further west, such as Bristol or the West Country, then the journey will be a lot easier. We are about an hour from the bridge.

As for having your wedding at the castle, while you will make considerable savings over some other venues and get a whole castle to yourself, exclusively, under our Special Wedding Offer, you do have to ask yourself whether you have enough friends and relatives able to make the journey to South Wales and stay overnight with you at your wedding.

If you are debating whether it is worth coming down for a viewing yourself, and struggling to arrange the time, consider it more as a B&B break and a mini-holiday rather than as a wedding viewing. After all, you might arrive and not like it, but as a B&B and holiday location, there's plenty to see and do in the area. You are in the heart of the Brecon Becons National Park after all.

We offer a two days wedding venue viewing break for £150 instead of paying £143 per night per room at a weekend or £123 per night per room on weekdays.

There are plenty of things to see in the area. Check out attractions in the Brecon Beacons here.

Also there are plenty of things to do:

(a) check out dog walks in the Brecon Beacons National Park here.

(b) Driving past Cardiff you will be well advised to turn off at J33 of the M4 and visit the Museum of Welsh Life at St. Fagans. You will spend hours walking in and out of the many ancient properties, stepping back through the centuries. It is a most amazing collection of old Welsh houses - each one has been dismantled and transported from all over the country and carefully rebuilt here. Dogs are allowed here. It costs £2 to park (when I last went) and is free to enter the actual museum and grounds. Pop in for a couple of hours either en-route to the castle or on your way back home.

(c) If the weather is good and you are travelling down on a fine day, or are staying in good sunny weather, take a trip out for the day to one of the beaches of the Gower.

(d) Virtually next door to us, literally a few hundred yards up the road turning right out of the castle, you will come across a small sign on the left advertising the Dan yr Ogof Welsh Show caves. These are well worth a visit, though it will cost £10 or so per adult to get in. There are dinosaurs and coffee shops and a huge caving system where you are able to walk arouind deep in the caves with falling waterfalls and stalagtites and stalagmites.

At Christmas the whole place is turned into a fantastic grotto full of elves and Father Christmas. It's a real hit with the kids (though my four year old was scared of all the elves last year and could not wait to leave - typical contrarian not to like Christmas).

(e) A couple of miles to our east, you will find a small zoo, the animal sanctuary; if you like visiting zoos, though this is quite small and rough and ready, you may care to make a half day of it here and in their gift shop.

(f) You have probably heard of the Town of Books - Hay on Wye. Just do not take your Kindle - they are banned in the town. Hay on Wye is worth visiting on a rainy day as you can pass away hours and hours browsing through the millions of books on sale, some for as little a a few pence. You are bound to come away with a bundle of books which, even if you never read them, at least won't cost an arm and a leg.

(h) If you are into the wild outdoors and dog walking, there are numerous excellent short and longer walks nearby. In fine weather (as the path is steep and slippery when wet) it is worth visiting one of the UK's largest waterfalls in terms of the drop - Henryhd Waterfalls.

An easier walk is to be found at the Brecon Mountain Centre - all plains and sheep and a lovely view over the town of Brecon if you walk around the edge of the mountain top.

There is a good two hour circular waolk around the Usk reservoir which I quite like, and like the Mountain Centre paths, it is reasonably level.

For a longer walk with some impressive waterfalls, try Ystradfelte waterfalls.

Using these links and others on our sites, you will be able to plan an action filled trip selecting all the things you would like to do, and allowing for some days inside and some outside according to weather conditions.

More locally, if you do not feel like taking the car out, we have our own Country Park, see the meadow field for walks and also loads of woodland walks in the Country park which joins on to our lower gardens.

Our dog site has a number of useful dog walks locally, so if you have dogs, bring them along too. We are a dog friendly hotel and do not charge extra for dogs. See our lower gardens and the Craig y Nos Country Park for dog walks and the suggested dog days out on our Dog Friendly website with lots of ideas for dog walks and outings / day trips with your dogs.

If you have members of the family who would like to come with you, check out our family breaks discounts midweek and some weekends on our Brecon Beacons Hotel website.

You should always check availability first, as many weekends dates are taken up with exclusive weddings. See our B&B availability page here.

The beauty of making the trip to Wales is that you are killing several birds with one stone.

(1) you are enjoying a B&B break at a discount, so it is like a mini holiday. You could even stay three or four days paying only £200 (3 nights B&B) or £250 (four nights B&B) for two persons, B&B.

(2) You will have a chance to sample some of the food when having your bar meals. Check that Beth and Simon are working though as they are the chefs who do the Wedding Breakfasts.

Kindly note that on quiet winter trading days we do not open for evening meals, as guest numbers can be quite low in winter.

(3) You will be able to view the venue and take yourself on your own self-guided History Tour.

(4) If you are not sure about holding your wedding here at the end of your stay, you will have at least found a nice place to visit for B&B breaks. You will have discovered an interesting part of the world with friendly staff and oodles of history and scenery.

(5) If you combine your stay with one of our selected date Castle organised ghost hunts you could even add yourself on to a ghost tour.

So there is plenty to do in the castle and in the Brecon Beacons area generally.

Please now complete the B&B request form here, and we will confirm availability for you, or if we cannot make the dates, suggest an alternatve period to stay.

Kind regards,

Martin Gover.