Special Wedding Evening Entertainment Package
Wedding Packages > Wedding Packages
This is our Castle Wedding Packages - 'Evening Entertainment' Page.
EVENING ENTERTAINMENT PACKAGE

______________________________
The Evening Entertainment Package
______________________________
Professional DJ and equipment for your evening (7pm – Midnight)
Usage of a dry ice machine (usually costing £300 alone)
The popular "Selfie" POD and party accessories to make sure you capture the best and worst of your guests
Copies of all media taken on the night delivered directly to you via SD card
See below for the latest Pure DJ Dry Ice Effect at Craig Y Nos Castle
SWEEP can be added to all Wedding Packages
SWEEP can be taken as a stand-alone Evening Party & Buffet only Wedding
Cost: £30/ head for Hot Fork Buffet Two for a minimum 100 guests -
Venue hire
plus DJ fee paid separately
In association with Craig Y Nos Castle and Pure Wedding DJ's, we are proud to introduce our Special Wedding Evening Entertainment Package & Buffet (or SWEEP as we like to call it for short!)

The SWEEP Package fulfils the majority of your evening entertainment needs for a fraction of costs if purchased separately, providing our standard evening buffet along with a highly rated DJ and extras for a small portion of the individual price.
DJ adds: I have made a new video which 1 minute and 30 seconds long with 4 x first dances, dry ice and confetti. i'm using it as a cover video on my facebook pages. You can view it here.
SWEEP is

an optional add-on

to our Wedding Packages.
Add SWEEP for our evening buffet and the entertainment package provided by our partner Pure Wedding DJ's throughout the evening, alongside the numerous extras they provide as a part of the exclusive to Craig Y Nos Castle SWEEP package.
DJ update Feb 2019: "I've made a dedicated facebook page for the sweep/vip/ultimate package, it has photos, videos and descriptions of whats included.
Impress your guests throughout your first dance by dancing on clouds, whilst the confetti cannon kicks everything off and gets everyone off their feet, coming to join you and truly start the party.

Our selfie POD is a must at most weddings now as nothing else quite captures the moment and joy everyone is having, whilst also allowing for some humour or blackmail at a later date if a picture fails to capture their best side!
Terms & Conditions apply and
rates vary between midweek and weekend dates, and are higher for Premium Dates such as Christmas Eve, New Year's Eve, Valentine's Day and certain Bank Holidays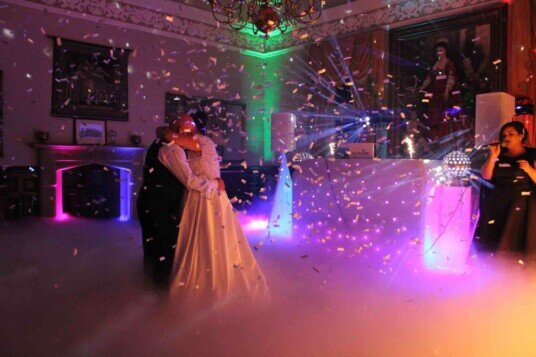 __________________________
Entertainment Package Availability
__________________________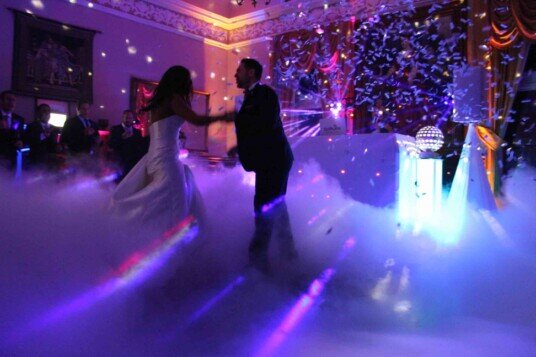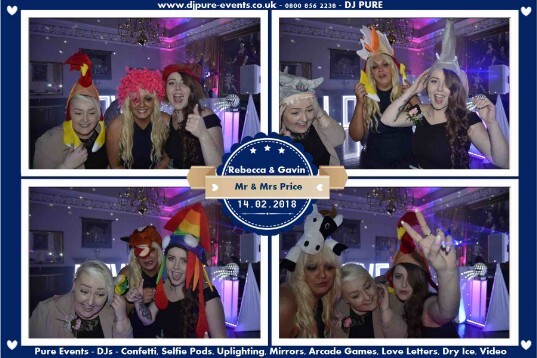 Our Perfect Wedding
"
We got married at the castle on 17th August our day was perfect from start to finish I highly recommend this as a wedding venue everywhere is a photo opportunity. Food was tasty and chef was very
.
....
" Read more
Evening Videography Service
Pure Weddings DJ is able to offer an evening Videography service. This is an optional extra included free by private arrangement with the DJ, and does not form a contractual part of the SWEEP Package. The video is taken by a member of the DJ's staff - an effective videographer but not a 'professional videographer'.
This separate service includes videoing the first Dance, with fabulous imagery of the bridal Couple dancing on the clouds, and a selection of dances by your guests dancing, taken during course of the evening. This service may save you a lot of money on hiring a photographer or videographer for the evening entertainment period of your Wedding Day, with sections of video taking you right up to the finish, and the Last Dance.
Circa 45 minutes of video of the first and subsequent dances is offered but, unlike a professional videographer, the DJ's service does not include any editing or cutting of the raw video footage. The First Dance is a highlight of the evening and the videography service offered to properly record the first dance is a nice extra. A video of the first Dance is preferable to a series of 'still shots'.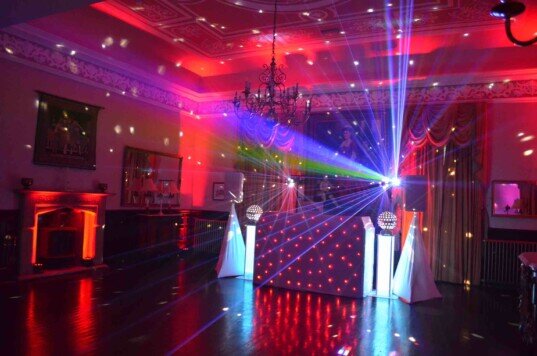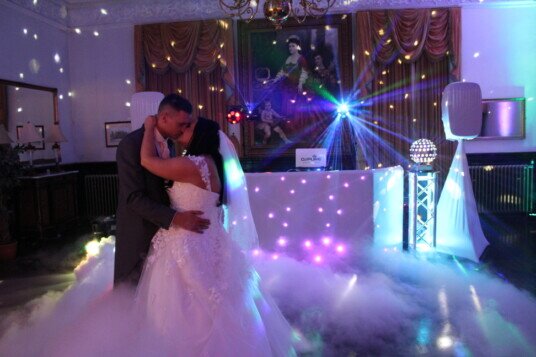 Wedding Tips: 80's Best Love Songs

Struggling for some Nostalgic love songs for your evening Disco selection? Check out the best 80's Love songs below. You can either buy on line, or listen to a short sample of each love song to remind yourself. Venture down memory lane, before making a shortlist of the songs you wish to play at your wedding.


Make a list of your favourite 1980's love songs and pass your selection to your DJ.


All Out of Love Air Supply
Almost Paradise (Love Theme "Footloose") Ann Wilson & Mike Reno
Always On My Mind Willie Nelson
At This Moment Billy Vera & The Beaters
Drive The Cars
Edge of Seventeen Stevie Nicks
Even the Nights Are Better Air Supply
Faithfully Journey
Father Figure George Michael
Heaven Bryan Adams
Hold Me Now Thompson Twins
I Remember You Skid Row
I Want to Know What Love Is Foreigner )
Kiss On My List Daryl Hall & John Oates
Lady Kenny Rogers
Lovesong The Cure
Making Love Out of Nothing At All Air Supply
One More Night Phil Collins
One More Try George Michael
Right Here Waiting Richard Marx
Saving All My Love for You Whitney Houston
Separate Lives Phil Collins and Marilyn Martin
Sexual Healing Marvin Gaye
Sweet Child O' Mine Guns N' Roses
Take My Breath Away Berlin
The Lady In Red Chris de Burgh
To All the Girls I've Loved Before Willie Nelson
True Colors Cyndi Lauper
What's Love Got to Do With It Tina Turner
Wind Beneath My Wings Bette Midler n)
Why Can't This Be Love Van Halen
You're the Inspiration Chicago
After All (Love Theme from Chances Are) Cher & Peter Cetera
Against All Odds Phil Collins
All At Once Whitney Houston
All Night Long Mary Jane Girls
Alone Heart
Alone Again Dokken
Always and Forever Heatwave r
Bizarre Love Triangle New Order
Can't Fight This Feeling REO Speedwagon
Cherish Kool & the Gang
Crazy Icehouse
Don't Dream It's Over Crowded House
Endless Love (Soundtrack Version) Diana Ross & Lionel Richie
Every Breath You Take The Police
Every Rose Has It's Thorn Poison
Giving You the Best That I Got (Single Version) Anita Baker
Got a Hold On Me Christine McVie
Greatest Love of All Whitney Houston
Hang On Now Kajagoogoo
Hard to Say I'm Sorry / Get Away Chicago
Heaven Warrant
Heaven is a Place on Earth Belinda Carlisle
Hello Lionel Richie
Hello Again The Cars
Home Sweet Home Mötley Crüe
Human (Remastered) The Human League
I Got You Split Enz
(I Just) Died in Your Arms Cutting Crew
I Just Called to Say I Love You Stevie Wonder
I Melt With You Modern English
I Miss You Klymaxx
I Need Love LL Cool J
I Need You Eurythmics
I'll Be There for You Bon Jovi
Is This Love Whitesnake
It Might Be You Stephen Bishop
Jesse Carly Simon
Keep On Loving You REO Speedwagon
Lessons in Love Level 42
Like to Get to Know You Well Howard Jones
Midnight Blue Lou Gramm Ready or Not
Missing You John Waite
More Than I Can Say Leo Sayer
No One Is to Blame Howard Jones
No Ordinary Love Sade
Nothing Compares 2 U Sinéad O'Connor
Nothing's Gonna Stop Us Now Starship Jefferson Airplane
On the Wings of Love Jeffrey Osborne
Open Arms Journey
Paradise Sade
Real Love The Doobie Brothers
Right By Your Side Eurythmics )
Rhythm of Love Yes
Say Hello, Wave Goodbye (7" Single) Soft Cell l
Secret Lovers Atlantic Starr
Slow Hand The Pointer Sisters
Space Age Love Song A Flock of Seagulls
Still Loving You Scorpions
Suddenly Last Summer The Motels
Sukiyaki A Taste of Honey
Sweet Love Anita Baker
Tempted Squeeze
The Sweetest Taboo Sade
Time After Time Cyndi Lauper
Tonight, I Celebrate My Love Peabo Bryson & Roberta Flack
Total Eclipse of the Heart Bonnie Tyler
True Spandau Ballet
Truly Lionel Richie
Up Where We Belong Joe Cocker & Jennifer Warnes
Waiting for a Girl Like You Foreigner
Wishing on a Star The Cover Girls



| | | |
| --- | --- | --- |
| | | Wedding Packages on to which you can add Evening Entertainment Package |
| | | |
| | | |
| | | |
| | | |
| | | |
| | | |
| | | |
| | | |