Midweek Weddings Terms and Conditions
Wedding Packages > See our Wedding Packages
This is our Castle Wedding Packages - 'Midweek Wedding Package - Terms & Conditions' Page.
Mid-Week Wedding Packages
1. (a) Exclusive use venue hire under this package includes the Conservatory Wedding Banqueting Room, Nicolini Lounge, Breakfast room lounge and the Ceremony Room for your Wedding Ceremony, plus the Function Room and Patti Bar.
(b) You may use the Conservatory for the Day and should then move through to the Evening Function Room for your evening party.
(c) The Evening Party Room is included free. Use of Evening Function room ensures wedding noise is confined to an area away from the bedrooms.

2. Exclusive use means we will not hold another wedding on your wedding day and the ground floor function rooms that you are using will not have other guests present. However, we do offer mid-week 'dog friendly' B&B breaks so there may be a handful of other B&B guests staying on mid-week B&B breaks, if your guests have not filled all the en-suites. Our separate cellar bar may be used for these guests.


3. All function rooms may be used comprising the Castle conservatory, the theatre for your Wedding Ceremony and the evening function room for your late night disco.



4. Mid-Week wedding packages are only on Weekdays Sun to Thurs.





5. Excludes Bank Holiday Mondays and the Sundays before Bank Holidays.
7. Must take Full Wedding Package offered - this is a set package for a set minimum number.
8. Guests can choose between a one night (at full wedding package tariff) or a two night (discounted mid-week) stay.
Guests may opt to stay two nights on a discounted 2-night deal.
Wedding guests can stay two nights mid-week with the wedding night (which counts as your 'first night') at the normal Wedding B&B Tariff and the 'second' night (the night before the wedding) at a 30% discount on the first night's B&B tariff. The night before the wedding is reduced to £105/room B&B mid-week, based on two sharing a double en-suite. The 'second' night can be taken either before or after the night of the wedding but must fall on a Sunday-Thursday night.
9. Includes numerous little extras some of which would be charged for by other venues:
(i) polished stainless steel cutlery,
(ii) white linen napkins,
(iii) white tablecloths,
(iv) cake stand (choice of several to choose from),
(v) cake knife,
(vi) candelabra (12),
(vii) display pedestals (2) for flowers,
(viii) children's high chairs,
(ix) Cheltenham gilt gold painted chairs,
(x) Our Bar closes at midnight however you can book a late bar for an extra charge

(xi) your personal wedding planner on hand to assist throughout your day.

(xii) White chair covers (without coloured bows) at £1.25 each or £1.50 each with bows.

(xiii) Blue aisle carpet running down the 'aisle' in the Ceremony room



Unique Wedding Venue
"
My family attended my cousin's wedding and honestly it was one of the best I've ever been to. The staff were brilliant, the setting is magical and the food was delicious. I was happy to see it hasn't become one of those venues that
.
....
" Read more
10. Exclusive use venue hire under this package includes the Conservatory Wedding Banquet Room, Nicolini Lounge, Breakfast room lounge and the Ceremony Room for your Wedding Ceremony, plus the Function Room and Patti Bar.
Smaller weddings do not merit full exclusive use of the castle at a weekend so we reserve the weekdays for our smaller weddings.

Evening Entertainment and use of main bar
To reduce party noise for non-wedding B&B guests, the main function room should always be used for your evening entertainment. The Conservatory is your day room and the Function Room is your evening party room. Your
Wedding Party moves through to the function room after your Wedding Breakfast, at around 7 - 8 pm.
B&B & Planning
1.

B&B en-suites @

£75

/

guest based on two sharing an en-suite

.

Minimum of 2 guests @ £75 each per double en-suite room. Above 50 overnight guests, once all doubles are filled at £150 / room, B&B is £50/ guest, for extras in family rooms. Or £35/ guest (£70/ room) in budget Nurses Block.
Staying Night Before

1. The night before your wedding, if available, may be booked by your guests at a 30% discount (if staying in the same room two consecutive nights) subject to availability and the '6 month rule'.
2. The 6 month rule is applied to Saturday weddings in respect of Fridays. This means we wait till 6 months before your wedding, if your wedding is on a Saturday, before releasing bedrooms for your guests to book the night before.
3. For a Friday wedding we allow guests to book up to 10 rooms the night before, but keep a few rooms (15) clear for any possible midweek wedding booking, until 6 months prior to your wedding.
4. All rooms can be booked by your guests to stay the night before, if available, 6 months or less, before your wedding.
Dining night before a wedding

We need a minimum of 16 people pre-booked to open the dining room for dinners to be served the night before a wedding. Provided there is no exclusive use wedding or other exclusive event on the night before your wedding, we can serve evening meals to your guests. If you would like to have guests dine with us at the castle before your wedding, please let us know in advance.
We do not allow any food to be consumed on the castle ground floor / public dining areas, unless purchased at the Castle. Food not bought at the castle may only be consumed in the privacy of your own accommodation or in any self-catering accommodation – such as TGRA, TFFF, or Nurses Block - but only in the latter if it is booked out by a Wedding Party in its entirety, as in 'all rooms in the Nurses Building are rented out by your party'.
Quick Quoter

For a personalised quote for your Midweek wedding, based on Day Guest numbers for the wedding breakfast and any requirements for a Drinks Package and / or an evening Buffet, see Midweek Wedding Quoter here.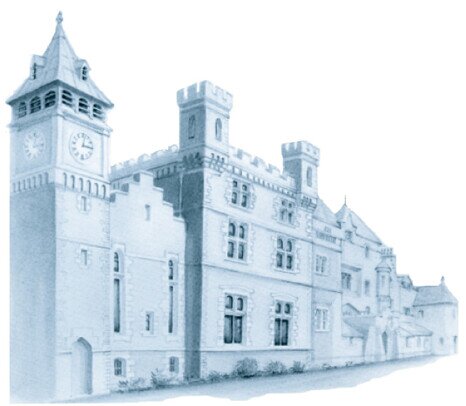 Enjoy a Homely Welcome and Friendly Service at Craig y Nos Castle