Dorian Michael Wedding Magician

Contact DORIAN sleight of hand magician
Mobile: 07812 592 391
Landline: (01792) 541 524
Email: dorian@dorianmagic.com

Close-up magician Dorian Michael is based in the UK and has been specialising in the performance of magic for almost a decade. His success has been founded on performing strong original magic and unique modern sleight of hand. His individual style is enthusiastic, energetic and is guaranteed to be a truly memorable part of your event. http://www.dorainmagic.com

Top class international close-up magician available to entertain at your table or mingle with guests at your party, function, wedding or event.

Contact details: Wedding Magician Swansea.


Wedding Magician.
Magician entertainer for Weddings and Civil Partnerships.

See Wedding Magician Wedding Gallery

If you are looking for a unique and special wedding entertainment idea, magician Dorian is guaranteed to leave a lasting impression on your guests.

As a magician for weddings DORIAN can be used in many ways, below are some typical examples:

* During the photo session:
During the photos is an ideal time to start entertaining with mix and mingle style magic. The entertainment begins a little after everyone arrives from the service. While the photographer does his thing, Dorian can entertain groups of your invited company with amazing magic designed to break the ice and put them at ease.

* During the meal:
The entertainment begins during the meal as he visits each table working in between courses. He will amaze you and your wedding company with his close-up magic until the start of speeches or coffee.

* Combination of photos and meal:
It is possible in most cases to split the entertainment so that he can work his magician skills throughout the reception and also entertain through the wedding breakfast.

* The period after the meal/speeches:
Close-up magic is a good way to help keep the momentum going after the meal and speeches have ended. During the lull as the day turns to evening can be kept up-tempo and filled with magic entertainment. Quite often the room that the meal was served is also the room for the evening function. This is a perfect time to provide entertainment for the guests as the room is turned over and everyone chill's out. As more guests arrive for the evening function he is able to mingle and perform for all.

* The evening function:
Dorian can mingle with the invited company as they gather for the evening function. When the buffet is announced the people waiting to be called for the buffet can be entertained. Then after, it's the turn of the one's who have eaten. The amazement and fun carry on until it's the turn of the disco or band to take over.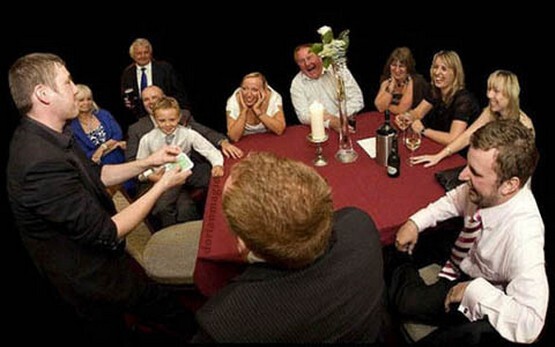 Helping to make your special day truly magical:
As a wedding magician and one of the UK's top wedding entertainers his goal is to make your big day the one that all your guests will talk about for a very long time after the event. You can rest assured that you and your invited company will remember the magical moments that he provided with his close-up magic, helping to ensure that yours is a truly fabulous and special day. The last thing your guests will be able to say is that your big day was boring.

A few wedding magician testimonials:
"Dorian was an absolute star. The magic was gob smacking and he charmed our guests non stop. Highly professional and yet friendly and warm, we lost count of the times our guests (and staff) sang his praises. A few weeks after our big day we went to another wedding, where a magician was performing, and whilst he was ok, he lacked the WOW factor that Dorian definitely has. His fee was, without doubt, the best value for money we spent that day." - Angharad and Sean Massie. (Brecon)

"I just wanted to say a massive thank you for entertaining our guests at our wedding in Cardiff City Football Club. According to my guests it was the best they have ever been to. All our guests were very keen to sing your praises in there words "absolutely fantastic".

"I certainly wouldn't think twice about booking you again and I will defiantly be recommending you to friends and colleagues. I certainly hope we have reason to book you again, Kind regards and again, many thanks."
Yasmin and James (Cardiff)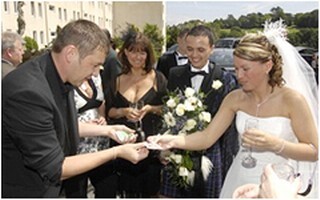 "I wanted to send you a quick email to thank you for performing at our wedding. The guests are still talking about your performance and trying to work out how any of it is done!! My father was extremely flummoxed by what you did.

I cannot express enough how happy we were to have you at our special day and I will happily pass your details to any friends/family who wish to use you in future. In fact.... I'm considering getting married again just as an excuse to see you perform... I'm not sure the other half would be too happy with me though!!"
Nikki (Hampshire)

"A belated thank you for your fantastic contribution to our partnership party on 1st July. We loved the way that you worked the room and everyone got a chance to see your magician skills up close. We were all very impressed and delighted, if somewhat baffled, with your magician skills! Best wishes."
Paul & Stuart (London)

DORIAN the close-up magician and table magician has been specialising in the performance of magic for well over a decade. His success is founded on performing polished, strong, modern, original magic and unique sleight of hand. His individual style is enthusiastic, energetic and is guaranteed to be a truly memorable part of your next event.

Although based in the UK Dorian is an international magician entertainer and has been flown all over the world to perform for clients. He is a professional entertainer who will supply the WOW! Factor and help ensure that your next event will be a total success.

Types of corporate event that DORIAN can be booked to entertain at:
Dorian's fresh, contemporary approach gets him booked and rebooked by many top corporate clients. He has a vast experience of entertaining at the highest level having entertained at countless functions such as dinners, balls, banquets, christmas party events, award ceremonies, conferences and product launches. (For more information please see corporate events page.)

Private functions that DORIAN can entertain at:
Dorian has also performed at hundreds of private parties of all kinds. You can book him all the year round as a close hand magician for weddings, civil partnership, university ball, dinner party, house or garden party, wedding engagement, anniversary, birthday party, bar mitzvah or christening, summer ball etc. To date he's never been late or not shown up for a booking.