Here is a standard set of questions a Bride sent us. They were doing a round-robin emailer to loads of venues without researching the venues' websites! For quick price comparisons a standard letter such as this is sometimes sent to numerous venues and then a Bride can see what comes back. Some venues may reply, some may not!
Anyway, we thought we would reproduce one such letter here, so you can see all the answers in one place!
My partner Tracy and I are looking to get married, and have no specific date or timeframe involved. We are however, both in full time jobs and time is something in the planning process we don't have. In order to shortlist some venues and to get an idea of costs we would be grateful if you can answer the following:
(1) What is your standard priced wedding in 2017 and in 2018 based on 50 guests in the day having a 2 course wedding breakfast, and an evening buffet - does this include room hire?
ANS: £50 per head for a two course wedding breakfast and welcome drinks package. Evening Buffet is £17/ head.
(2) What is the additional cost for a 3rd course option?
ANS: £5.00 head. However if taken with the evening buffet, the combined cost of both the Evening Buffet and the third course on your wedding breakfast is £20/ guest.
(3) Are you licenced for the ceremony as well, and what is the cost of the ceremony room?
ANS: The Theatre is licensed for wedding ceremonies, as is the Breakfast room. Latter only used for small weddings. Theatre seats 130 for a wedding ceremony. Cost is free if you take one of our wedding packages. Venue hire applies if you do not take one of our wedding packages. Venue hire for the theatre is £740 weekends or £555 weekdays.
(4) Do you have any offers on presently such as:
• Any Last Minute weddings – and what dates are these for.
ANS: The Last Minute Wedding Package is for a wedding on any date within a 'window' of up to 11-12 months ahead of today's date. The date up to which you can book a last minute wedding is specified on the Last Minute Wedding Package Page. The current tariff is £40/ guest instead of £50 / guest on all the other packages.
• Do you have different rates depending on what day of the week/weekend you choose to get married?
ANS: No, other than the Last Minute Wedding Package, all Wedding Packages are the same £50/ head regardless of day of the week, or season, or even year.
• Do you charge different rates for off peak season weddings?
ANS: No. However we will sometimes introduce the Last Minute Package for Jan Feb and March in a following year - much further in advance than the normal 11-12 months 'window'. So in the Autmn of any given year, we may extend the Last Minute Wedding Package 'window' to include the winter months, Jan Feb March, of the' year after next'.
(5) Do any of your wedding packages have requirements such as accommodation must be booked, and if so how much and at what price.
ANS: Yes, accommodation must be booked in line with the relevant Package as we use the accommodation income to cancel out the venue hire we would otherwise charge.
Typically, for free exclusive use,

you need:
(d) you can reduce to 20 overnight on the Last Minute Wedding package for smaller weddings, using only ONE of the two main function rooms.
(6) What is the cost of any accommodation you can offer generally?
ANS: £150 per night per double room. Discounts apply when two nights are taken when one of the nights falls on a Sunday to Thursday.
(7) Do you have any drinks packages – such as welcome drinks, toast drinks and drinks on table?
ANS: Welcome Drinks are included within the £50 head standard tariff for the two course wedding breakfast and welcome drinks. House Wine on tables and toasting champagne for the wedding toasts works out at £12.00 per head.
(8) Can you supply me with your Bar Drinks tariff and also a copy of an average evening dinner menu?
Again, I appreciate that these questions may appear laborious to answer, but on a weekend the last thing we want to do, is to have to look and see what and where this, that and the other is on your website and felt if you could answer the questions above, it would enable me to make a decision and compare.
Further Questions:
Q: Can you just tell me which is the best wedding package for me?
A: See a very simple summary of the features and benefits of all our Weekend Wedding Packages.

Q: How many can your Wales Castle Wedding Venue hold?
A: 150 in Function Room and 150 in Theatre, 120 plus in Conservatory. Craig y Nos Castle can sleep 67 in the en-suites and 20 in the non en-suites. 87 guests can stay overnight in total. See our Our Total Guest Capacity for wedding guest accommodation.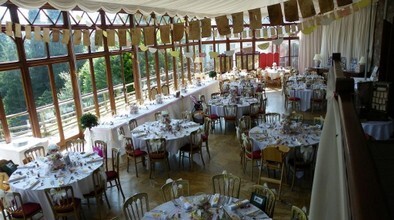 Q: How much does your wedding venue cost?
A: See our Wedding Deals Tariff page for all our Wedding Packages, including the regular tariff, mid-week weddings and late availability weddings.

Our Castle venue is free under both our Special Wedding Package (50 staying overnight) and the Members Wedding Package (above 125 guests to wedding breakfast).

Wedding Breakfast and Welcome Drinks @ £50 per guest (2017 Weddings) for a minimum of 50, and £17.00 per guest for the Evening Wedding Buffet.
For 2018 and later years, see the up to date Wedding Tariffs for each year.

You need 50 guests staying overnight at £75 B&B each to qualify for the Special Wedding Package. Or 125 to your Wedding Breakfast for the same rate under the Members Wedding Package.

It is the B&B use under the Special Wedding Package (SWP) - and the Midweek Wedding Package (MWP) - that allows you to have the castle wedding venue exclusive for free. SWP is our most popular discount package as it encourages weddings to have all their guests for the day and night, all staying under one roof together. See the Special Wedding Package here.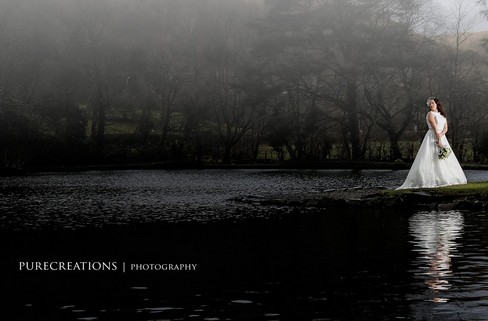 You can also save money on your wedding at Craig y Nos Castle if you:

1. Choose a mid-week wedding package

2. Choose a last minute weddings date

3. Select the best wedding package offer for you - see a simple summary of the features and benefits of our Weekend Wedding Package.

4. Refer other couples to hold their wedding at Craig y Nos Castle - see our Referral Credit page for details.

Q: Most of my guests are local so I cannot get 50 guests to stay overnight. What can you offer as an alternative?
A: See our Mid-week Wedding Package also at £50 per guest (2017). You need only 25 guests overnight, instead of 50, but still need 50 wedding guests at your wedding breakfast. This wedding package, like the weekend's Special Wedding Package, includes a 2 course Wedding Breakfast and Welcome Drinks.
A Midweek Wedding Package can be taken on weekdays, Sunday to Thursday. Also see last minute weekend weddings. You have the Conservatory for your wedding breakfast and the function room and main bar for your evening party.
While not fully exclusive, as we will have other B&B guests staying in the accommodation, we do not serve non wedding guests in the evening (they dine out on wedding nights). This means you have the castle ground floor rooms fully exclusive to your wedding party on your wedding day.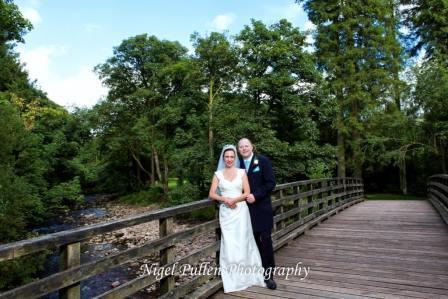 There is also a Members Wedding Package where no guests need stay overnight.

Q: I only want a small intimate wedding with 15 - 20 people - do you do small weddings?
A: Yes but only on Sun to Thurs, not the weekends. As we only allow one wedding at the castle a day, we do not allow smaller bookings on weekend dates, so you would need to opt for a mid-week booking for a smaller wedding.
Bespoke Regular Wedding Tariff (BRT) would apply but with very low numbers you would not justify paying venue hire other than for the Ceremony Room. We have two Ceremony rooms - the Theatre (£790 to hire) and the Breakfast room (£200 to hire). So for very small numbers you probably would not want to hire a function room at all, but instead just have a 'Ceremony Only' Wedding and then an evening meal in the restaurant along with other guests - but at your own party table. The smallest Ceremony Room you can hire is the Breakfast Room, at just £200.
With a 'Ceremony Only' wedding you could pay just £200 in ceremony room hire (for the Breakfast Room), plus the cost of the meal and drinks in the restaurant! Remember that small weddings and 'Ceremony only' weddings are only permitted mid-week.

For 25 or more guests, see our Mid-Week Weddings package. There won't be another wedding on the same day, so you'll have the venue to yourself aside from any other B&B guests staying on midweek breaks. Other B&B guests will not be dining in the castle on wedding nights as we state they must eat off-site when there is a wedding on.

If you want a weekend wedding, it can work out cheaper to have more guests under the Wedding Packages than a smaller wedding on the regular tariff.

Example: Say you had 20 people for your wedding in Wales and you wanted to hire some rooms for your exclusive use; the cost on Bespoke Regular Wedding Tariff (BRT) would be: Wedding Breakfast: £50.00, Welcome Drinks £6.21, Evening Buffet £19.41, comes to £75.62 per head. Factor in Wedding Venue Hire say for just ONE room - the Conservatory Banqueting Room at £790 together with the theatre for use as your wedding ceremony room at £740, and using both rooms for just 20 guests you add another £76.50 per head. In this example the cost would be £152.12 a head. A 25% discount on venue hire applies Sunday through to Thursday which would reduce the per head rate to £133 per head.
Clearly this would be uneconomic! The mid-week wedding package in comparison is £50/head for the two course wedding breakfast and welcome drinks, or £70/head with the evening buffet and 3rd course added.
Choose the Midweek Wedding Package if you can get 50 guests to your wedding breakfast with 25 staying overnight or choose the more popular weekend Special Wedding Package with 50 guests overnight.

See 2017 wedding price comparison between the Special Wedding Package and the regular Wedding Tariff.

Q: What is your availability?
A: See Availability Pages for each year starting with 2017.

Q: Do you have recommended wedding suppliers?
A: Regular wedding suppliers are featured on this website - see our wedding suppliers index and scroll through alphabetically to the category you need.


Q: What are the timings and schedule for the wedding day?
A: This site contains a comprehensive Wedding Planner Guide; go through page by page. See specifically the Wedding Day Schedule.

Q: Can I see your rooms individually?
A: There is a room by room guide on this site, starting with room 11 en-suite (scroll through to the room you are interested in, in numerical order).

Q: The £75 B&B tariff under the Special Wedding Package seems a bit high and I am worried I might not be able to get some or all my guests to stay overnight at this tariff. Can you reduce it?
A: The wedding tariff is fixed but you are gaining over £3,000 of wedding venue hire free, and other savings, by filling up all the accommodation. To encourage more people to stay, you may opt to partly subsidise the guests who are staying and so supporting your wedding. You could pay £15 or £20 per head, to bring the cost for the overnight guests down to £60 or £55 B&B per head. See Accommodating your 50 guests on how to ensure you get 50 guests staying overnight and how to arrange all your wedding guests across all our rooms.


Q: I understand the Castle is having some renovation work done. Will renovation work affect guests and what changes will take place over the next year or so?
A: Historically we averaged £300,000 a year on renovation work and adding new en-suites and function rooms at the rate of three or four a year. With the economic downturn this has reduced considerably and we are not always keeping up with routine maintenance tasks let alone new renovation projects. External work is done during the week in the summer and internal work is done mainly in the slow winter periods when we are not busy with functions.

The following 8 projects should be completed within the next 12 - 18 months:

(1) Repaint function room - changing colour from pale blues to creams and golds. Half done. This room is used for the Evening Functions and morning Breakfasts for overnight stayers. Music room (far end of room) is overdue for some redecorating but we are currently working on roof and wall re-pointing work to prevent water / damp ingress into Music Room rear wall. So far the Billiard Room (the first part of the function room as you walk in) has been redecorated but could do with another make-over now, and the Music Room is still to be repainted. We aim to complete both rooms in Spring 2017.
(3) Complete paving slabs outside spa area and along rear terrace from Conservatory Patio to Theatre Patio to allow guests to walk between the two terraces on same style paving.
(4) Repoint, re-gutter and fix leaks coming in above and adjacent to theatre porch entrance to rear bedrooms. Replace rotten door (now done), redecorate corridor (done) and repaint plasterwork in porch (awaiting leak repair above parapet to porch).
(5) All gutters to be painted black as currently they are a mixture of green, cream, grey and black in different parts of the building. Most of the windows were repainted by two painters during the summer of 2013 but all need redoing every few years.

(6) Various remedial works in the derelict upper areas.
(7) Conversion of two derelict workshop / storage rooms on ground floor. One will become AB13 (former mortuary), another AB17. AB17 to have a mezzanine level.
(8) Repairs to atrium glass roof of theatre and generally to roof and gullies of theatre to prevent water coming in especially to rear wall behind parapet and the statue, and water from another gulley into the corridor from function to theatre. Work ongoing, hence the scaffolding discreetly placed around the back of the building (not visible from front couryard). A lot of repointing of walls required to prevent water ingress.

Once the above projects are complete, we plan to complete the Blue Bar Restaurant and upgrade the theatre public loos. Creating a separate restaurant that is open to non-residents and non-function guests when we have a function on would allow us to increase our current tourist board grading from 3 star guesthouse to 3 star hotel. (A 'hotel' has to have a permanent restaurant whereas a guest house does not.)
Eventually we'll create a second Bridal Suite in the 'secret room'. This is a room accessed via a tiny private staircase.

Q: I visited the castle some years ago. What changes / improvements have been made in last year or two?
A: A reasonable amount considering we have cut back:
(1) Wooden character Oak flooring laid to all ground floor rooms from reception hall, through Patti Bar and Function Room up to music room in Jan 2010. This took about 6 weeks to do in the winter, while castle closed.
(2) Nicolini Lounge completely refurbished and redecorated, with new ceiling, new curtains, the old bar taken out, new carpet, and made into a proper reception lounge full of leather chesterfield sofas, club chairs and Queen Anne chairs.
(3) Theatre Ground Floor rooms refurbished to prevent ingress of water and rising damp. Theatre porch plaster stripped back to stone, stone walls repaired and repointed, window corners and stone surrounds rebuilt where had collapsed. Water still coming in to porch area due to problem with parapet (see above re ongoing works).
(4) New carpets laid in bedroom corridors and stairs to en-suites, replacing the old sun damaged and worn carpets. AB23 also re-carpeted.
(5) Phones and TVs added to more bedrooms.
(6) Windows repainted Nurses Block and Nurses Block exterior repainted. However windows need doing regularly. There are a lot of windows everywhere.
(7) Spa and hot tub - external area alongside corridor to spa now decked, repainted and made into a sun-trap seating area not that it is ever used - it was intended to become the Sauna area one day.
(8) New water pipes laid from front entrance to theatre end, and into castle main building, and to Nurses Block. This finally resolved a ten year problem with leaks that had led to £18,000 per annum bills for water. Since the new alkafine pipes were laid, our water bills have reduced to circa £4,500 a year - so much lower that the water company suspected (and tested for) a problem with their meter!
(9) 56 New large table lamps bought from 'Coachhouse' and distributed around the bedrooms and function rooms. In the lounges and dining areas these provide low level softer lighting which is preferable to the brighter
lights of the overhead chandeliers. Ambience certainly is improved in the evenings and the bedrooms look nicer with the new lamps too.
(10) General tidying up and improvement of garden areas immediately around castle.
(11) Billiard room and Music room which together form the main evening function room, have now been waterproofed against damp ingress above window arches and on walls (involving some re-building of internal walls and damp proofing work). The Music Room roof has been recovered, and both rooms nicely repainted and refurbished, the works being completed during January and February 2017.
(12) Conservatory floor - tiling . Floor tiles recently refurbished and re-polished. New red carpets laid in Conservatory on stairs, balcony and on ramp into conservatory.
(13) Conservatory roof was originally waterproofed by applying a special solution on top of the existing fibreglass. However movement in the wooden planking under the fibreglass roof caused the fibreglass membrane to develop leaks resulting in staining to the internal white canopy. The Conservatory roof has now been recovered in a new firestone rubber material guaranteed against leaks for 20 years. We may one day remove the white canopy and expose the original roof to bring it back to an old version of it shown here (though minus the 'lantern' section in middle) - with the original ironwork visible and the wooden boards re-painted cream. For now the white canopy has been cleaned and it resembles a marquee roof internally, with fairy lights.
For a look at all our past restoration projects see below links:
1) Blue Bar - Ongoing
2) Conservatory - restored in 2007
3) En-Suites - 2004 - ongoing as more are added
4) Various Exterior Works - laying of garden walkways etc.
5) Floor joists throughout castle - all ground floor has had to have new flooring, as have most / all the en-suites.
6) Function Room - including laying of new oak floor
7) Completely gutting and re-furbishing of the main Nicolini reception lounge
8) Sports room and Spa area
And you can also see some fascinating historical pictures of the castle a century ago here.
Q: What is the deposit if I want to book a date?
(A) £2,000 which can be paid in one go or in 8 equal monthly instalments of £250. Full deposit must be paid at least three months before the wedding date.

Q: How do I arrange a viewing?
A: Go to our wedding venue book a viewing page.

Q: I don't know how many I will eventually have to my wedding. So how can I book the correct number and can I change my numbers?
A: Initially you only need to book for the minimum number for the Special Wedding Package (50 for Wedding Breakfast) or the Members Wedding Package (75 for wedding breakfast) and with our Special Wedding Package you commit to having 50 guests stay overnight. Nearer the date, once your RSVPs are in, you can increase your numbers to the correct level based on the numbers who have confirmed they are coming to your wedding. You cannot however reduce your numbers within two months of the wedding date, as this would incur a late notice cancellation fee of 50% of the reductions.

Q: I am not sure how many evening guests will be hungry so soon after the Wedding Breakfast, so can I reduce the numbers for the Evening Buffet?
A: No. However it is a good idea to schedule your day so there is a long enough gap between the Wedding Breakfast ending and the Evening Buffet starting. Ideally the gap should be at least 3 hours. So if you start your Wedding Breakfast at 3.00 / 3.30, you would tend to finish at 6.00 to 6.30 pm, and the buffet could then go out around 9.00 pm. See information on timing of the Wedding Breakfast and Evening Wedding Buffet.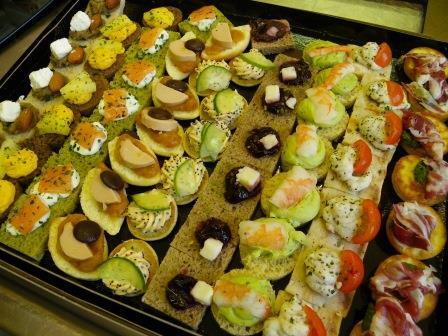 The Special Wedding Package buffet is at a reduced tariff - £17.00 against £19.41 a head for the standard buffet on the regular wedding tariff (BRT). Because this is already a reduced rate, we do insist on exact numbers being catered for in line with the number of guests.

However you are able to choose any 6 items from the BRT buffet options Buffet One, 'standard' to Buffet Two, 'superior'. Portion numbers are increased for the cheaper items and decreased for the more expensive items. By selecting some of your six items from the more expensive Buffet Two, this means you can choose some expensive items, to give your guests less 'quantity' but more 'quality'.

Q: What is Exclusive Use under the Special Wedding Package (SWP) and Midweek Wedding Package (MWP)?
A: Under both the Special Wedding Package and Midweek Wedding Package, provided you get the correct numbers, you have exclusive use of the ground floor areas of the castle.

This includes the function room (Music Room and Billiard Room), the wedding ceremony room, the Hotel Bar, the Welcome Drinks Lounge and Breakfast Room, and the Wedding Banquet Room - the Conservatory.

The former Conservatory Bar is no longer in use as a bar - instead it is used as a secondary kitchen / serving area to plate up the food which our waitresses serve your guests when you are dining in the Conservatory.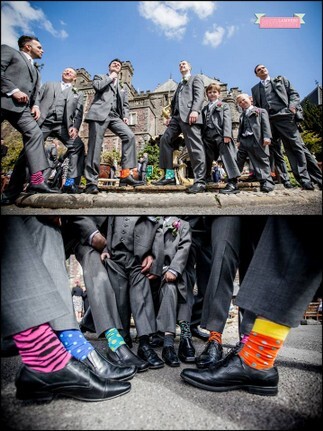 You will generally vacate the Conservatory by 8.00 pm and move through to the function room for your evening party. We no longer allow evening parties in the Conservatory due to complaints about noise disturbance caused to residents. This is because the en-suites in the Atrium Block all back on to the Conservatory. With the doors open from the Conservatory onto the terraces at the back and the main green entrance door opening out on to the atrium yard, the noise level would continue until 02.00, keeping everyone who wishes to go to bed early, awake half the night. To avoid this we now hold all evening parties in the main function room.

By vacating the day room by around 8.00 pm the Conservatory can be cleaned and set up for the next day's wedding or event during the evening. Where there is another wedding on the day after yours, the Conservatory - after you have moved through to the function room for your evening do - is made available to the next day's Wedding Party.

Many brides stay the night before their wedding in the Nurses Block to set up their tables and decorations the day before their wedding. Brides like to set up their wedding tables and decorate the room ready for their wedding day the day before if possible. Since by 8 pm you will have moved through from the Conservatory to the main lounges and function room, this will not affect you.

Exclusive use does not include the upper levels of the castle, known as the 'derelict levels', nor the cellars nor any accommodation not booked by guests of the wedding.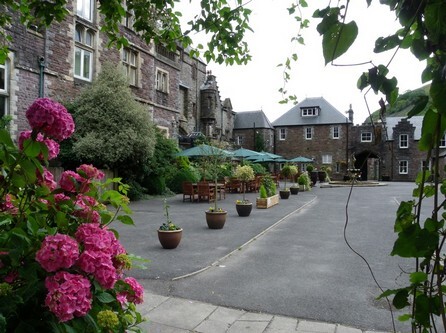 Exclusive use does not include the ancillary Nurses Block or any bedrooms not booked by your party. Only bedrooms booked by your wedding guests become 'yours' for the day.

Under the Special Wedding Package you should be booking up all en-suites.

Under the Members Package, you won't be using many of the en-suites. People choose the Members Package because they and their guests are local, so only a few stay overnight. With Members Package weddings, and the mid week weddings, and also Last Minute Weddings where not all rooms are used, there will be non wedding guests in bedrooms your party has not booked, as we cannot let rooms you do not book go unoccupied.

Any non-wedding guests are informed - when they first enquire, and when they confirm their booking, and again upon booking in - that they cannot go into any of the ground floor lounges and function rooms, and for evening meals they are directed to the four or five local pubs.