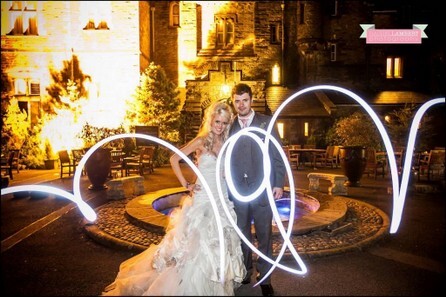 Craig y Nos Castle South Wales - Our En-suites

Your entire wedding party may stay with you under one roof. Our Special Wedding Package encourages this, as you get exclusive use of the venue when you have 50 guests staying overnight.

Party late into the night! Our en-suites sleep 81 at maximum usage in a mix of doubles and family rooms. 19 more can sleep inexpensively in our budget style Nurses Block.
At full capacity we can accommodate 100 guests, excluding rooms AB18,19,20 which are non-refurbished and reserved for staff and suppliers.


Put your guests into the most suitable rooms - use disabled rooms for elderly guests and family rooms for large families or adults willing to share. Have your guests book direct, quoting the room number you've reserved them.

Guests of a Saturday wedding may stay the night before in the Nurses Block (capacity 21) but generally may not book into the en-suites when there's a wedding on the Friday.
Guests of a Friday Wedding will have availability in en-suites on the Thursday night, and can stay two consecutive nights in the same room.
___________________________________________________
50% off Regular B&B Tariff
on the Night Before your Wedding
for Guests staying two consecutive nights in same room
__________________________________________________
Guests staying two nights get the night before the wedding (if they are in the same room both nights) at HALF PRICE.
Do let your guests know this! Otherwise guests who wish to be nearer the venue to avoid a long journey on the day of the wedding, may think they have to book into alternative accommodation locally on the night before your wedding. They can in fact stay half price at the Castle the night before and be relaxed and refreshed on your wedding day.

______________________________
Making full use of the 25 En-Suites
______________________________
Each en-suite should have two occupants at £75 PPPN (per person per night) B&B and then additional guests can be added to triples and family rooms at a flat rate of £35 PPPN B&B.
Achieving the full 80 in the en-suites is unlikely as you will not be using every single available bed. However it can be achieved with good planning! To help you make the most of our room capacity, see how to place 50 guests into the en-suites here.
To encourage all guests to stay, see our Letter to Guests encouraging everyone to stay at the castle here.