If you want more than six items, you can add additional items (for a wider selection), for an additional £2.95

per item per person.



Start by selecting any six of these traditional options:
A Selection of Cold Sandwiches
Chicken Wings & Drumsticks
A Selection of Pasties/Pastries
Mini Cheeseburger Crostinis
Chicken Dippers with Bbq Dips
Our wedding planners will always be happy to discuss any requirements or thoughts you may have.

You may also be interested in our alternative option of slow roast hot pork rolls - served with apple sauce, crackling and stuffing alongside a selection of condiments. Basically like a Hog Roast without the visual effect of the pig roasting on a spit. This would be an alternative to the choice of six items above.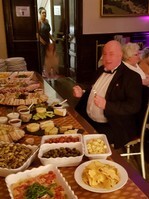 You may also be interested in offering guests a small selection of desserts -
all these individual options can be added at £2.95 per item per head:
Profiteroles with Chocolate or Toffee sauce
Fruit or Vanilla Cheesecake
Lemon Tart with Raspberry Coulis
Sticky Toffee Pudding with Butterscotch Sauce & Custard