Old Evening Buffet Menu Craig y Nos Castle
Wedding Packages > Choose a Wedding Menu
Original Evening Buffet 2012-2018
A Selection of Cold Sandwiches
Chicken Wings & Drumsticks
A Selection of Pasties/Pastries
Mini Cheeseburger Crostinis
Chicken Dippers with Bbq Dips
Our wedding planners will always be happy to discuss any requirements or thoughts you may have.
_____________________

2018/2019 Evening Buffet
______________________
Further Buffet Choices added April 2018
Please Choose up to 6 selections
Mixed Selection of Cold sandwiches & wraps
Sausage Rolls, Pasties & Pies
Selection of Cured Sliced Charcuterie
Smoked & Cured Seafood Platter
Selection of Welsh Cheeses, Grapes, Chutney & Crackers
Nachos, Guacamole, Sour Cream & Salsa
Herb Coated Garden Wedges
Garlic & Herb Toasted Bread Slices
Chicken Goujons served with BBQ & Sweet Chilli
Chicken & Vegetable Skewers
Mediterranean Vegetable Skewers
Halloumi & Pepper Skewers
Hot Filled Jacket Potatoes
Mixed Salads including: Coleslaw, Mixed Leaf, Tomato & Red Onion, Pesto Penne & Cherry Tomato, New Potato & Chive Crème
Fraiche
2019 FINGER BUFFET & £17.00
Sandwich selection

2019 HOT BUFFET [1] @ £19.95
2019 HOT BUFFET [2] @ £22.50
Mini veg chill & rice pots
If you booked your wedding before Sept 2020 you may by now have selected from the Original Buffet menu items now on this page.
If you are booking after September 2020 you will initially select from the new menus on the main Evening Buffet page. This may be quite sufficient for you. However if you prefer any of the individual items on this 'old menus' page, you can add them to the existing menus on the Evening Buffet page.
We charge £2.95 per guest for each supplementary item.
The 2020 Evening Buffet menu has three different pre-set Buffet Options. The 2019 Evening Buffet choices are on this page - see:
Craig Y Nos Castle offers a good variety of evening buffet options. Our chefs can also discuss any suggestions you may have - so let us know if you want something 'special'.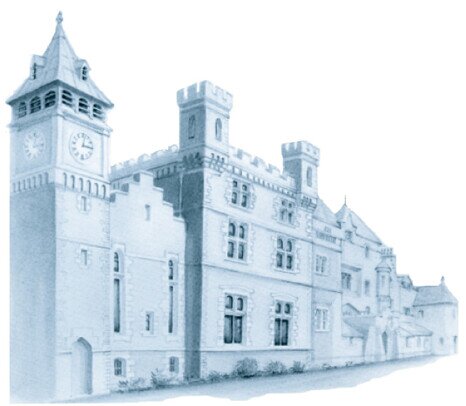 Enjoy a Homely Welcome and Friendly Service at Craig y Nos Castle